But parents and children need to follow the rules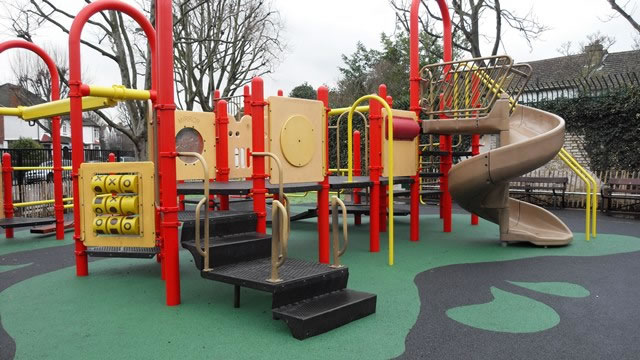 In line with fresh Government guidance, playgrounds in the borough will be reopening this weekend, but parents and children will need to carefully observe updated guidelines designed to keep them and others safe.
More than two dozen children's playgrounds in Wandsworth will reopen on Saturday, July 4, along with some outdoor gyms and ball game areas.
However in order to minimise the risk of people catching Coronavirus and sparking a surge in infections, people will need to follow these simple rules. And they need to be aware that while play equipment is regularly checked to ensure it's safe to use and not defective – it is not sanitised or disinfected.
The rules are:
• Do not enter the play areas or use play equipment if you, or any member of your household, has Coronavirus symptoms or are self-isolating.
• Children should not use the play equipment if they are clinically vulnerable.
• Make sure you have hand sanitiser with you before entering play areas and encourage everyone in your family to wash their hands regularly with hand sanitiser, especially before and after using any play equipment.
• Encourage children to avoid touching their faces.
• You must maintain social distancing from others unless they are from the same household - current advice is to maintain at least 1m distance and consider wearing a face mask.
• To help maintain safe social distancing only one adult per group is allowed into the playground. As an adult you are responsible for maintaining social distancing from other users.
• Some play equipment can only be used by one child at a time to allow for safe distancing. Please ensure your family waits at a safe distance if the play equipment is in use or return later.
• No food or drink is to be consumed within the play areas.
• Try to avoid busy times.
• If your family is wearing disposable PPE, please take it home with you or where provided use the bins – Do not leave any form of litter behind.
• Wash your hands when you get home.
For the most up-to-date information about playground openings - see here. Parents are advised that the playgrounds at Fred Wells Gardens and at York Gardens will remain closed due to refurbishment and building works.
If people come across a broken or damaged piece of play equipment please email parks@enablelc.org or call the parks police on 07500 959 442.
July 2, 2020