Providing free white goods to people shielding or otherwise struggling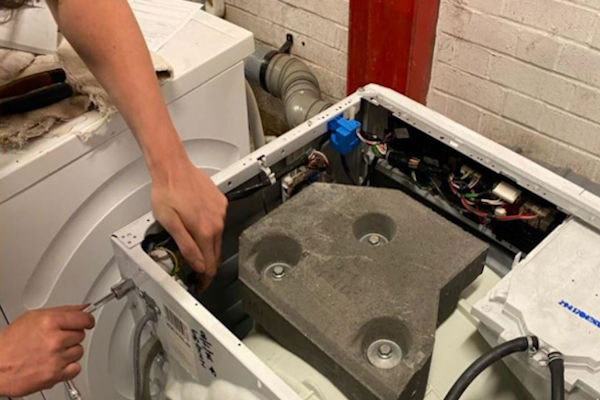 ReWork repairs a washing machine left at Smugglers Way tip
The ReWork project based at the Smugglers Way waste and recycling plant in Wandsworth has provided free electrical goods to struggling families during the Coronavirus crisis.
ReWork passes unwanted household goods including furniture and white goods like fridges, cookers and washing machines on to charities and social enterprises to be sold at affordable prices to low-income families. White goods are refurbished to ensure they are fully functioning and completely safe. If an electrical item cannot be repaired, if possible it will be broken down into parts that are sold in an online shop.
During the lockdown ReWork provided free white goods to people who are shielding or otherwise struggling. People who have benefited have included a disabled person who returned home from hospital to find his home had been broken into and all his appliances stolen.
In another case a single mum who was shielding had no fridge or freezer so had to send her oldest child to the shops daily. She was given a reused fridge-freezer.
And a newly-created emergency homeless hostel housing 70 people had no way to clean residents' clothes and bedding. They were provided with two washing machines and two tumble dryers.
The renovation work is carried out by local people who have been out of work for some time. They receive training and paid work experience. The aim is to give them skills in electrical engineering and maintenance work, as well as experience of a workplace environment, to help them start a new career.

New trainee Abdul helps to collect, clean, catalogue, photograph and store spare parts
ReWork is operated by Groundwork London with the support of the Western Riverside Waste Authority and Cory Riverside Energy. The council's spokesman on finance and climate sustainability Cllr Rory O'Broin said: "ReWork is a fantastic service and I would encourage people to think of them when they have household items they no longer need. As well as providing affordable furniture and appliances for people that need them, they are keeping tonnes of items out of the waste stream, helping the borough meet its commitment to reduce carbon emissions."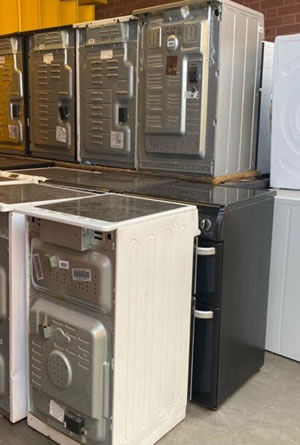 All repaired and ready to be re-homed
Find out more about ReWork's Reuse Workshop in Wandsworth, and what can be donated, on the Western Riverside Waste Authority website.

August 26, 2020