Jane Cooper aiming to help support World AIDS Day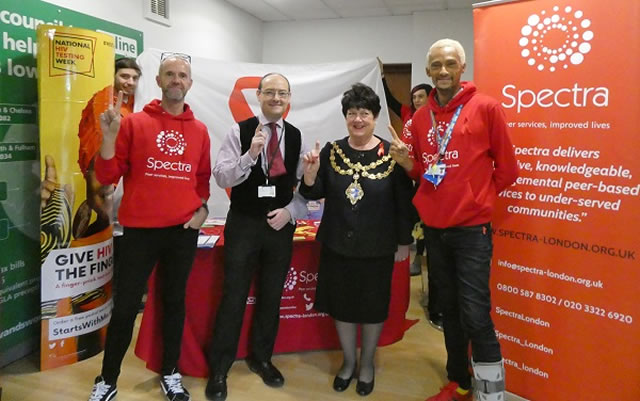 The Mayor with the Spectra team at the town hall
The Mayor of Wandsworth, Cllr Jane Cooper, had an HIV test today (27 November) as part of the council's support of World AIDS Day on 1 December.
Globally there are an estimated 36.7m people living with HIV and more than 36 million have died of HIV or AIDS. World AIDS Day aims to raise awareness, reduce stigma and discrimination and help people learn the facts about how to protect themselves and others.
Testing for HIV is now as simple as a quick finger prick test, and early diagnosis means a person can access effective treatment, allowing them to manage their HIV as you would any long term chronic health condition, such as diabetes, and prevent onward transmission of the virus.
The Mayor had her test at the town hall as part of a day-long event organised with the council's partner Spectra to provide free HIV tests to visitors and council staff, plus a lunchtime forum for staff on understanding and challenging HIV-related stigma and discrimination.
Spectra hold regular HIV testing events across the borough. See here for details.
Free and confidential HIV testing is available in a range of health settings including GP surgeries. Symptomatic patients (those with specific symptoms) are encouraged to attend the Falcon Road integrated sexual health centre near Clapham Junction Station for testing and treatment.
To find out more visit www.shswl.nhs.uk or telephone 0333 300 2100 (Monday to Friday 8am-8pm).
If you'd rather take the test in the comfort of your own home, and you have no obvious symptoms of HIV, you can order a free postal test at www.test.hiv.
The council's partner METRO also provides free advice and support services for Wandsworth residents with HIV locally.

November 28, 2019