Friends group and Putney Rotary Club plant thousands of crocus bulbs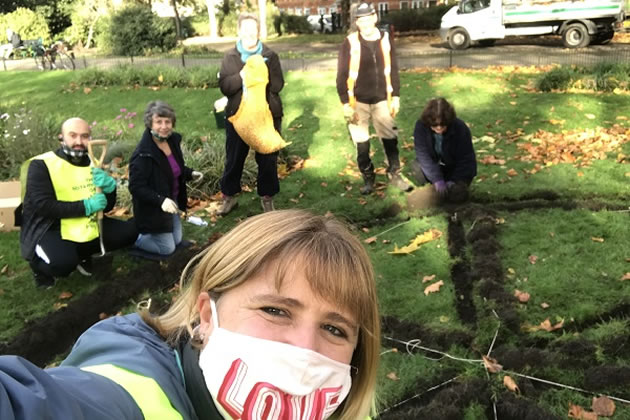 Louise McCance-Price and the planting team
Putney Rotary Club and the Friends of Wandsworth Park have planted thousands of crocus bulbs in Wandsworth Park to raise awareness of polio.
Rotary Club donated 3200 crocus corms to create a splash of purple in the riverside park next spring. They were planted, with the support of parks contractor idVerde, in the shape of a Rotary wheel. The team measured out the shape with string, and then carefully cut out segments of turf. After lifting the turf in sections, corms were neatly placed the underneath so squirrels couldn't reach the bulbs.
"What great teamwork and it was such fun to plant together in the Autumn sunshine just before lockdown. We are making a real difference in our community – partnering together for the greater good." commented President of Putney Rotary Club, Louise McCance-Price.
Purple was chosen as it has become symbolic in the fight against polio. The colour is inspired by the colour of the dye painted on the little finger of a child to signify they have received a potentially life-saving polio vaccine.
The planting follows a collaboration on World Polio Day (24 October) when the council lit up Wandsworth Town Hall in purple and Putney Rotary Club raised money for the cause with a Halloween themed bake sale.
Cllr Steffi Sutters, cabinet member for community services and open spaces said, "I would like to thank the groups involved in the planting of so many crocus bulbs. It shows how effective collaboration across the community can have both a positive impact for a worthy cause as well as making our parks even more beautiful. I look forward to seeing them bloom purple come the spring."

November 17, 2020