Six Months Celebration for Thames Clippers
---
Fireworks to mark first 50,000 passengers using the Putney to Blackfriars River Bus
Thames Clippers are celebrating a successful first six months of operation for the River Bus between Putney to Blackfriars with a grand firework display for local residents on Wednesday 2nd October 2013 on the river opposite Bishop's Park.

Those wanting to catch the fireworks can experience a taste of the River Bus service for themselves; Thames Clippers service operates to Putney pier and the display will take place at 21.00 after which we will be running a free shuttle boat between Putney and Chelsea Pier departing at 2120 and 2140.

This month has seen the 50,000th passenger on board the service since Transport for London's appointment of KPMG Thames Clippers as the new operator of the route in April this year. The River Bus service is now both faster and frequent having seen record passenger numbers in recent months it offers more commuters than ever before the opportunity to travel to work in comfort with a guaranteed seat, Costa Coffee bar and free Wi-Fi on board.

Currently Thames Clippers provide two thirds more services than before on weekdays on modern, fully accessible, high speed catamarans. Those who already use the River Bus will be aware that the timetable changed on 9th September 2013. Commuters will now benefit from extra sailings in both the morning and evenings as well as some sailings that continue for the first time all the way to Canary Wharf without the need to change at Blackfriars.
Managing Director Sean Collins said:
"These changes to the timetable are in direct response to feedback from our regular passengers following a survey to which we had a great response. We are committed to offering the best service to London's commuters and visitors and we are delighted that we have already served 50,000 passengers along our newest route".
Here is the updated timetable: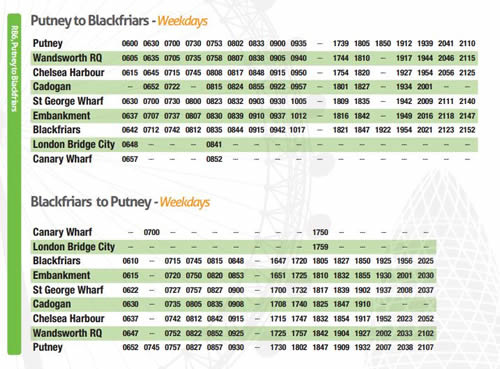 You cann also find the updated timetable showing the additional services on Thames Clippers' website.


September 25, 2013