Putney to Blackfriars passenger numbers triple
New figures reveal that the Putney to Blackfriars River Bus service (route RB6) has carried a record number of passengers since KPMG Thames Clippers took over operation of the route in April 2013.
The enhanced River Bus service saw passenger numbers rise from 40,411 in 2012/13 to a record 121,667 passenger journeys in 2013/14 – an increase of more than 200 per cent.
During the past year, Transport for London (TfL) and Thames Clippers have sought to deliver increased passenger convenience with faster journey times and more frequent services. The route now operates two thirds more services on weekdays on modern, accessible, high speed catamarans all offering passengers a guaranteed seat, free Wi-Fi and the availability of onboard refreshments for added comfort and convenience.
Andy Thompson, Head of London River Services, said:
"The Putney to Blackfriars River Bus service goes from strength to strength, with more and more passengers appreciating what a great way it is to travel. These modern boats offer the latest passenger comforts, and with more departures than ever before we're helping passengers make the most of the river."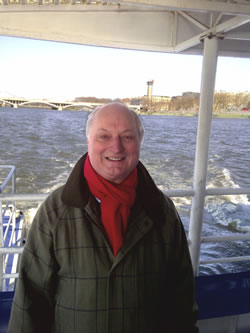 Putney's Assembly Member, Richard Tracey said:
"This great success is what we have been working for in the western section of the river between Putney and Westminster. Progress is moving very fast and I believe the completion of Plantation Wharf Pier in the next 12 months will bring even greater growth, then to be followed by Nine Elms and Battersea Power Station. I thank all who have got behind us all the way"
Oyster is accepted as a method of payment on all River Bus services, including this route, which means passengers can use Pay as You Go to pay for their ticket. There is also a reduced fare for passengers with a valid Travelcard. For regular passengers there is a range of season tickets available on a weekly, monthly and annual basis.
TfL and the Mayor of London are committed to making the most of passenger services on the River Thames and last year launched the 'River Action Plan', which was a commitment to investing £10m in order to meet the ambitious aim of increasing the number of people travelling on the river to 12 million a year by 2020.
TfL say that this plan is already delivering as passenger numbers increased from 6.5m to 8.4m last year. In addition to the availability of real time next boat information at River Bus piers, work is progressing well for improved passenger information, enabling better integration of river services with other transport services in the capital. Looking ahead, work to increase passenger and berthing capacity at three key piers, Bankside, Embankment and Westminster, is well on the way to be completed during 2015 to help meet increased demand for services.
A number of new pier infrastructure projects are also progressing well as new riverside developers move forward with their plans. These include new piers at Battersea Power Station and Plantation Wharf, which are due to open early next year. Plans for piers at Convoys Wharf in Deptford, Enderby Wharf in Greenwich and the western side of North Greenwich Peninsula are also underway.

You can find the current timetable showing the local river bus services on Thames Clippers' website.


May 15, 2014