Is it a bird? Is it a plane? No it is SuperCyclingMan Stuck In China
---
A seasonal update from SuperCylingMan on his "7 Continents World Cycle"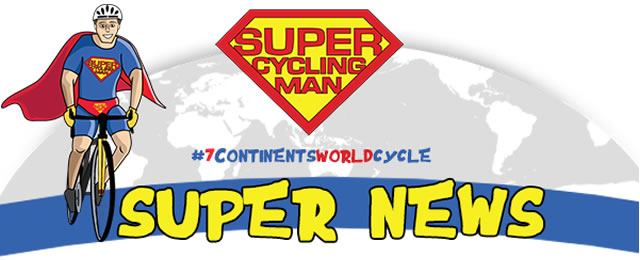 SuperCyclingMan, is the alter ego of Will Hodson or Mr Hodson as he is better known to the children at the Brandlehow Primary School he taught at in Putney.
He is pedalling round the planet for many reasons, including: to raise £100,000 for charity, to educate children about the world and to encourage children and adults to be more active and get on their bikes.
Supercycling man has told this website:
"On May 31st 2015 I set off from London on a 5-year long, 100,000km bike ride that will take me across every continent on the planet, even Antarctica! Have I mentioned that I'm also doing the whole thing dressed up in a slightly ridiculous superhero costume and given myself the name "SuperCyclingMan"?"
"SuperCyclingMan" is raising money for charity and visiting schools across the globe. He hopes to inspire as many children as he can by talking about how "WE CAN ALL BE HEROES".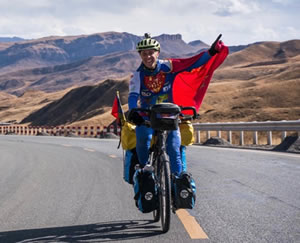 Here is Will's Christmas message:
" ALL I WANT FOR CHRISTMAS IS…TO BE BACK ON MY BIKE AGAIN! - I've just downloaded Mariah Carey and Wham! on to a Christmas playlist to listen to on the portable speaker on my bike.

I just need a bike to ride now! My front forks snapped last week and I'm currently holed up in a hotel in Kunming in China waiting for a DHL delivery of some spare parts to come through.

I'm sure I'll be back on the road again soon…maybe even in time for Christmas!
Anyway, I just wanted to say a SUPER BIG THANK YOU for all your support throughout this year.

Even though I am cycling solo and am now over 20,000 kilometres away from home, I don't feel lonely. And in a large part that's down to you. From hooking me up with friendly people to stay with on the way, to hilarious comments on the posts I write, giving me ideas for music to listen to while I'm riding, invaluable advice on how to fix things that go wrong and some ridiculously generous donations to the charities I'm aiming to raise £100,000 for.
I REALLY appreciate all of your help and it's great to have you coming along with me for the ride!"

"P.S I'll be eating my Christmas dinner in China (am guessing it will either be rice or noodles!) and every single meal until the end of 2016 using only chopsticks to raise money for charity.

I'm calling it my 'CHARITY CHOPSTICKS CHALLENGE'. I'm really not very good with chopsticks. In fact most of my meals look like a toddler has been eating, with food all over the table and around 50% of it ending up in my stomach. Some of the food I'm eating with chopsticks is just plain awkward too. Have you ever tried eating cereal with chopsticks?

All funds raised are being split between the charities I am aiming to raise £100,000 for with my world cycle: Parkinson's UK, Sustrans, World Cancer Research Fund, World Wildlife Fund, and World Bicycle Relief.

We've currently raised over £14,000! That's pretty amazing!"

Why not join me in spirit and eat YOUR dinner with chopsticks and raise some money for charity in the process? If you'd like to join in with my 'CHARITY CHOPSTICKS CHALLENGE' get in touch at hello@supercyclingman.com

Or if you would like to give £2, £5, £10, whatever you can to support my charity chopsticks challenge and help me reach my £100,000 charity fundraising target, you can donate online here




December 27, 2016