SuperCyclingMan, is the alter ego of Will Hodson or Mr Hodson as he is better known to the children at the Brandlehow Primary School he taught at in Putney.
He is pedalling round the planet for many reasons, including: to raise £100,000 for charity, to educate children about the world and to encourage children and adults to be more active and get on their bikes.
Back in 2015 Supercycling man has told this website:
"On May 31st I set off from London on a 5-year long, 100,000km bike ride that will take me across every continent on the planet, even Antarctica! Have I mentioned that I'm also doing the whole thing dressed up in a slightly ridiculous superhero costume and given myself the name "SuperCyclingMan"?"
"SuperCyclingMan" is raising money for charity and visiting schools across the globe. He hopes to inspire as many children as he can by talking about how "WE CAN ALL BE HEROES".
Here is Will's latest update:
I've now cycled over 50,000 kilometres (!) from the UK to Japan. And I'm so happy we've broken the £10,000 mark for fundraising for Parkinson's charities.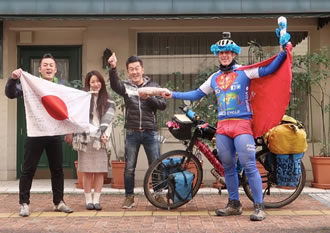 I've been meeting some extraordinarily kind people in Japan in the last few weeks, including these people in the photo who let me shelter from the cold Japanese winter and sleep on their shop floor. The next day they even gave me
my own packed lunch of a HUGE sandwich (I'm holding it in the photo!).

There really are kind people EVERYWHERE doing small heroic acts of kindness. Thank you for all your support this year. 2019, which will see me cycle across Australia, New Zealand and possibly even reach America, is set to be a cracker!

Stay super and remember…WE CAN ALL BE HEROES!
Facts Not Fiction
55,000 km cycled over 3 years and 7 months
60 schools visited worldwide
£10,091 raised for Parkinsons's charities -
donate here
Where next Will?

So here's the plan for next year ..... Australia, New Zealand and possibly even reach America!