More snow predicted as Minister pays visit to local gritting team
After the south east received a battering from Strom Emma overnight weather forecasters are warning we are not out of the woods yet with more snow expected on Friday (2 March) afternoon.
Wandsworth Council's gritting lorries are likely to be needed again and yesterday (Thursday 1 March) they received a visit from a government minister. Rishi Sunak, who is Under-Secretary of State for Housing, Communities and Local Government visited the council depot at Frogmore and praised the team which drives the nine lorries as well as the large staff contingent who grit busy pavements and footpaths. The depot also stores the council's stockpile of some 3,500 tonnes of salt.
Mr Sunak watched as the lorries picked up the new stocks of salt. He said: "I know the teams have been working hard gritting virtually 24 hours a day this week and they explained that as soon as temperatures drop or there's more snow it all has to be done again. I'm impressed by their speed and thoroughness and the efficiency of the gritting operation here in Wandsworth."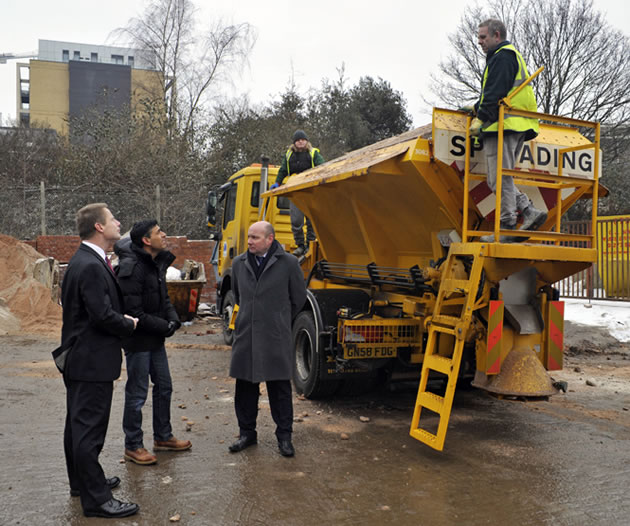 The cabinet members for community safety, Cllr Jonathan Cook, and business, Cllr Kim Caddy, showed Mr Sunak around on his tour of the borough. Cllr Cook said, "It was good to have an opportunity to let our hard-working gritting teams know that their efforts are appreciated.
"They have nearly 230 miles of road and 450 miles of pavement to cover, so face a mammoth task this week. But we would like to assure our residents that they are doing all they can to keep Wandsworth's streets clear."
The inconvenience for local people got worse this Friday with the announcement that South Western Railway are not providing a service on most lines through the area. The move came as a number of passengers got stranded overnight on a train from Bournemouth to Waterloo.
Residents can find the location of their nearest salt bins by visiting www.wandsworth.gov.uk/snow and there is more information on the council's website about staying prepared for the cold spell.
March 2, 2018