Over £12,000 spent in South West London over the last year.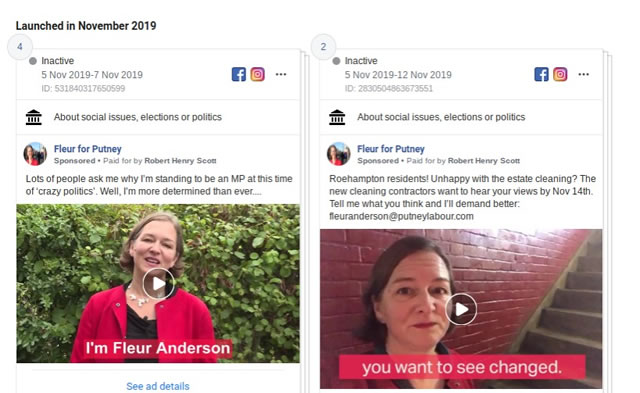 image: facebook
Politicians in South West London have spent more than £12,000 in the past year on Facebook adverts to secure your vote.
Unsurprisingly there has been a surge in adverts in the last few weeks after the announcement of the General Election, leading to at least 29 adverts being posted by groups in Richmond, Kingston and Wandsworth in November so far.
But Wandsworth Labour have also made a big push for Fleur Anderson in Putney, which is considered to be a possible swing seat in the absence of Justine Greening. They have spent £1,721 this year, and pushed out 10 adverts in October.
Fleur for Putney, a page promoting Fleur Anderson, has spent £1,471. It bought two adverts in November – one explaining why she is standing to be an MP, and another speaking to residents in Roehampton who are unhappy with the cleaning on their estate.
Kim Caddy, Conservative candidate for Battersea, who has spent £706 on adverts so far this year.
Zac Goldsmith, incumbent MP for Richmond Park spent £1,995 in the period. He has put out five adverts in November so far in the run up to the General Election, costing less than £100. Three of these adverts focused on lobbying TfL to build a temporary bridge while Hammersmith Bridge undergoes repairs.
Overall, Conservative candidates in South West London appear to be spending more money on Facebook advertising, with seats such as Zac Goldsmith's Richmond Park considered to be marginal.
Generally speaking, local Liberal Democrat, Green, Brexit and UKIP candidates have spent very little money on Facebook advertising. Anyone with a Facebook page can pay to "boost" a post so it appears in users' timelines. The idea is that the more you pay, the more people it reaches.
An expert in digital advertising commented, "The controversy over Cambridge Analytica has given Facebook a mystic among politicians that it doesn't really deserve. Recently there does seem to have been a shift from businesses abandoning use of the platform while there has been more adoption by government agencies and political parties. It is actually quite an ineffective tool for the kind of precise geo-targeting that is needed to be sure most of your ads appear in a particularly constituency. With less than half the population having an account and an even smaller proportion of those active on a day-to-day basis the reach is quite limited and the usership is from quite a narrow demographic. It is surprising to see Labour making such use of it in light of their manifesto commitment to crackdown on tax avoiding corporates of which Facebook is probably the most egregious example. They aren't exactly walking the walk."
Anybody can see how much is being spent on Facebook advertising using the Ad Library tool. This was launched in October 2018 after controversy surrounding advertisements used in the run up to the EU Referendum and US Presidential Election.
It also reveals someone's previous adverts and how many people it reached. Anyone who wants to advertise is also required to provide proof of identity and the location of their company or political party.



Written with contributions from Sian Bayley - Local Democracy Reporter
November 22, 2019