South West London Law Centre is given national award at virtual ceremony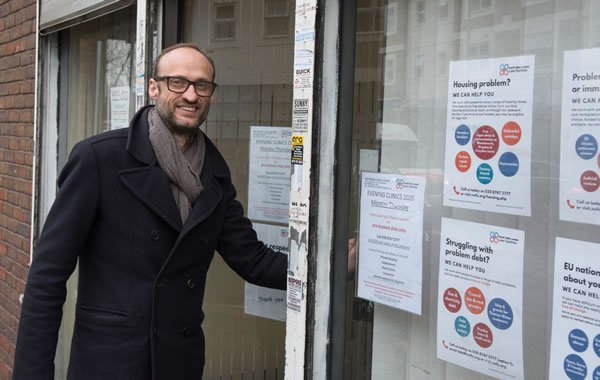 Patrick Marples
A law centre that helps Wandsworth and Putney residents with housing problems, asylum applications and money and debt advice has won a national award.
South West London Law Centre, which covers Wandsworth as well as Merton, Richmond, Kingston, Croydon and Sutton, was named Legal Aid Firm of the Year at a virtual ceremony this month.
The judges highlighted a story from a client who was able to keep a roof over her and her child's head this year thanks to the hard work of the team.
The woman, who wished to remain anonymous, said: "Before I came to the Law Centre, I was seriously suicidal. I couldn't bear the thought of me and my son being on the street, but I didn't think there was anything I could do to stop it. I was being bedroom-taxed but the council refused to let me move to a smaller property. At one point I felt so hopeless I just wanted to make it all end.'
"As soon as the Law Centre took my case, I felt so relieved. I was still really stressed out about the thought of being evicted, but I felt like Marie and Laura would take care of it. I always felt like the Law Centre took my disability seriously and tried really hard to make me feel as comfortable as possible.'
"Marie and Laura were always so nice, informative and caring – and that really encouraged me to keep up with my end of the bargain and answer calls which I would normally have avoided because of my anxiety. I hope I'm never in rent arrears again, but now I know there is a place I can come to where there are people who are willing to help."
Chief Executive, Patrick Marples, aged 52, said the award was a "very strong validation of the work that we do."
He told the Local Democracy Reporting Service: "The current coronavirus crisis has exposed a lot of things and we're hoping that part of that exposure has identified the need for legal aid, and the need for it to be properly funded, particularly in civil cases. Things have slowed down a bit as the lockdown happened, but when the court duty scheme starts again we are expecting a big explosion in the need for advice and support.
"People do need to be informed of what their rights and responsibilities are and be helped to gain those. Because otherwise you end up with a very uneven society."
He said at the beginning of the lockdown the team at South West London Law Centres campaigned to stop the housing court possession scheme.
"That was really unsafe," said Patrick. "The government was saying people should be socially-distancing themselves, but the courts were at that stage still holding full possession lists, with lots of very ill, sick and disabled people having to come to court potentially to lose their home."
He said the team are now looking at how it should start up again and work remotely.
"It's really important that vulnerable people get advice and support in these hearings, it's too easy for them to lose their home and not understand this."
Patrick says over the past 10 years legal aid has changed massively, but the team are committed to helping people get the right decision.
"For our casework team the reason why they do it is that real sense and passion for getting justice and the right decision for people. It's that sense of unblocking the system where things have gone wrong for people," he said.
"We will take the time to really find out what went wrong, what's the client's story, what are the facts, so we can present those facts and succeed in the case.
"One of the judges in the awards summed up the work of the law centre in six words: 'We listen, we fight, we win.'"
Last year South West London Law Centres helped more than 8,000 local people to understand their legal rights and get justice.
The centre prides itself on helping people who cannot afford a lawyer, and stopping them from being locked out of the justice system.
Earlier this year, the centre received a £4,227 Covid-19 Response Fund Grant from Wandsworth Council to increase its staff capacity and remote working.
The grant was used to meeting growing demand for advice due to coronavirus and people facing financial hardship.
By Sian Bayley, Local Democracy Reporter
July 21, 2020