Wants extended Christmas break and more resources for online teaching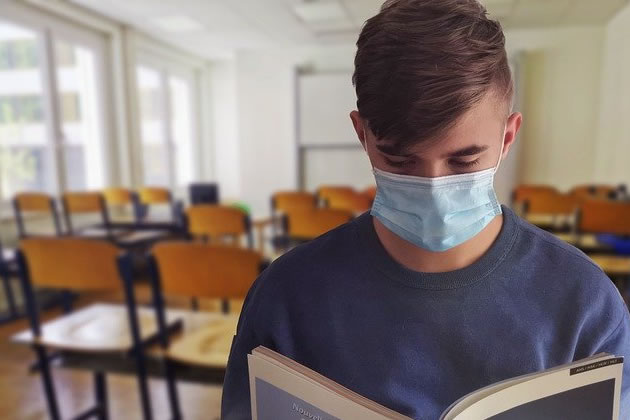 Picture by Alexandra_Koch from Pixabay
Sadiq Khan has urged the Government to close London's secondary schools and colleges early ahead of Christmas due to a "significant" rise in Covid-19 cases among secondary-age pupils.
The plea comes as it was announced London will be placed into Tier 3 restrictions from Wednesday, with hospitality venues set to close over the festive period.
Mr Khan said in a letter to Ministers: "With significant outbreaks among 10 to 19-year-olds, the Government must consider asking schools and colleges to close early and reopen later in January, with extra resource provided to support online learning.
"Face coverings should also be made mandatory in busy outdoor public spaces, given the numbers on our high streets in the run up to Christmas."
The borough of Greenwich has seen rates of infection climb above those seen in March, prompting council leader Cllr Danny Thorpe to announce via Twitter on Sunday that he is asking all schools in the borough to move to online learning for the remainder of the term.
The announcement has been met with confusion and frustration, with at least two schools informing parents that they will not be following the council's advice and will be staying open for the remainder of the term.
Rhys Spiers, head teacher at Ark Free School, said in a letter to parents: "It has been brought to my attention that information is circulating on social media that Cllr Danny Thorpe has asked all schools in the Royal Borough of Greenwich (RBG) to close from Monday evening.
"I will of course continue to monitor the situation closely, however until I am instructed to close by the Government Department for Education (DfE) and/or Public Health England (PHE) our school will remain open to all scholars as normal."
The Government is unlikely to change its policy however, with a DfE spokesperson saying it is "vital" to keep schools open.
The spokesperson said: "It is a national priority to keep education settings open full time and it is vital that children remain in school until the end of the term.
"Schools, colleges and early years settings across the country have worked tremendously hard to put protective measures in place that are helping reduce the risk of the virus being transmitted and our regional school commissioner teams continue to support local authorities and school trusts to remain open and help resolve any operational issues."
Mr Khan was also rebuked by Labour leader Sir Keir Starmer, who told LBC Radio this morning that he is "worried about closing schools early" and advised the Mayor to "talk to the Health Secretary about what we can do to keep schools open this week".
He continued: "Try to keep them open this week."
Joe Talora - Local Democracy Reporter

December 14, 2020