St George's Hospital Trust set up testing pod


The testing and results service will be available for staff who have been symptomatic for 24 hours to let them know if they have Covid-19 and have to self-isolate.



Screenshot, St George\'s @StGeorgesTrust
In a video posted on the Trust's Twitter page yesterday (March 23), Tori Cooper, Head of Nursing for the Emergency Department, pictured above, said: "We have set up the staff testing pod as per Public Health England guidance to target staff so that we can maintain our workforce, reduce anxiety, and make sure that we get the right people in the right place at the right time looking after our patients and maintaining safety for our community and our healthcare workforce."
The pod is not a walk-in facility and staff must have a referral from their line manager.
The Trust says symptomatic staff will be triaged by the testing team and an appointment will be made if the staff meet the criteria for testing.
As of 9am on March 23, 2019, 17 patients had sadly died at St George's having tested positive for coronavirus.
The trust has also announced a thank you appeal to support staff.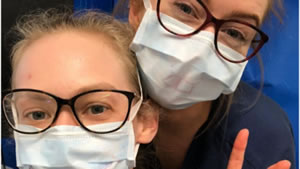 Funds raised will be used to provide accommodation for key staff, buy equipment and supplies, plus fund mental health support and welfare initiatives now and over the coming weeks and months.
Jacqueline Totterdell, Chief Executive of St George's, said: "I would like to say a huge thank you to the public for the amazing support they have shown our staff – by donating food or sending messages of gratitude. The coming weeks will be incredibly challenging for our front line staff as they care for an increasing number of patients with Coronavirus. The money raised by donating to this thank you appeal will help provide support to our staff at a difficult time, in an organised way."
Visit the dedicated JustGiving page to donate. Funds can be donated anonymously and you can add a message with your donation.
In light of new government guidance on non-essential travel, the hospital has asked that members of the public do not come in to the hospital with physical donations without contacting them first.
You can donate non-perishable items by arranging a delivery by emailing giving@stgeorges.nhs.uk or calling 0208 725 4522 or 07769312840 between 9am-5pm, Monday to Friday only.
The trust is also working on co-ordinating how it can best make use of the number of people who have contacted the hospital offering to volunteer.

Sian Bayley - Local Democracy Reporter
March 25, 2020