Iraqi asylum seeker Ahmed Hassan will serve a minimum of 34 years
Ahmed Hassan, the 18 year-old Iraqi asylum seeker found guilty of planting a bomb on a District Line train on September 15, has been jailed for life.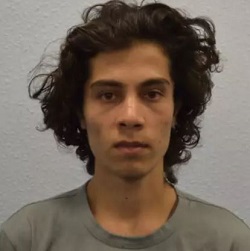 Hassan, who was convicted of attempted murder at the Old Bailey one week ago was given a minimum term of 34 years.
The bomb only partially detonated at Parsons Green Tube Station, but the judge told Hassan he was "satisfied that you were determined to cause as much death and carnage as possible".
Mr Justice Haddon-Cave added that Hassan had carried out the attack with ruthless determination and almost military efficiency. "There is no doubt in my mind that you are a very dangerous and devious individual."
Hassan, 18, was sentenced at The Old Bailey today, Friday 23 March after victims testified about their ongoing "nightmares" about the September incident.
In a victim impact statement read by prosecutor Alison Morgan, Stephen Nash said he had to give up his job as a social worker because he feared getting on the Tube since the incident and does not like being amongst crowds.
Ann Stuart said she became "tearful for no discernible reason" and had frightening dreams, adding: "Since this happened I wake most mornings shaking and anxious".
Another victim, identified only as Miss S who suffering 16% burns to her body after the fire from the device melted her tights, had to see a psychologist.
Altogether 51 people were injured when a fireball swept through thetube carriage, burning passengers' skin, hair and clothing, or suffered crush injuries as people fell over each other while trying to escape.
The judge said he believed both that Hassan had been associated with Isis, and that he was older than 18.
Describing how Hassan left the train at Putney Bridge, one stop on the District Line before the device was due to explode, the judge said: "You wanted to save your own skin and were not prepared for shahada [martyrdom].
"You will have plenty of time to study the Qur'an in prison in the years to come. You should understand that the Qur'an is a book of peace, Islam is a religion of peace.
"You have violated the Qur'an and Islam by your actions, as well as the law of all civilised people. It is to be hoped that you will come to realise this one day."
March 23, 2018