Miserable night for Labour as fate of Siward Road facility is decided

Wandsworth Council vote to close the nursery. Picture: @CllrSimonHogg
The vote which decided the future of the Siward Road specialist nursery in Earlsfield was held at a Wandsworth Council meeting last Wednesday evening (11 July) and resulted in the council approving the motion to close the nursery. The meeting clashed with the World Cup game between England and Croatia and a motion was submitted to suspend proceedings during the second half of the game which was passed to allow Councillors to halt hostilities to watch England lose in extra time.
The Labour Party opposed the closure which is now due to take place at the end of this month. They were hoping to persuade some Conservative councillors to vote with them to save the facility but failed to win any over.
The Labour leader in the borough Cllr Simon Hogg said on Twitter, "Sorry that we lost the vote to save Siward Road Nursery tonight.
"Parents across Wandsworth have been reliant on the vital services that it provides for years. "
The meeting started at 7.30pm, half an hour after the game began. It was then proposed that the meeting would be suspended for viewing of the second half of the game with the end scheduled for 10.30pm.
For some councillors, such as Maurice McLeod, Jo Rigby, Lucy Mowatt Louise Calland, it was their first opportunity to give a speech in a council meeting and their maiden speeches were well received by their councillors.
The Council argued that the directly managed nursery for children with social and communication difficulties and complex needs operating at Siward Road Early Years Centre was set up at a time when few mainstream providers catered for nursery age children with such disabilities and local special schools' offerings to younger children was less well developed so now a dedicated nursery is no longer necessary.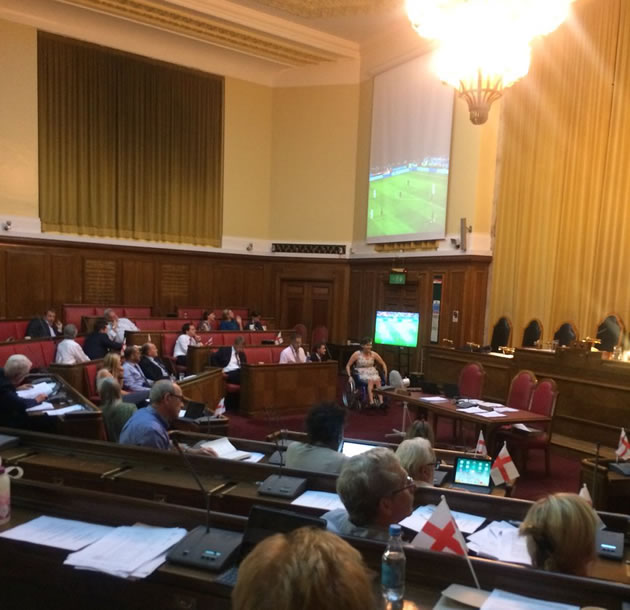 Councillors end hostilities to unite and support England. Picture: @mowords
Labour criticised the decision and said it was announced shortly after the election as part of a reduction in funding of £1 million to Early Years education in the borough.
Zenaba Fozari-Hamid, whose son attended the nursery, came to the Town Hall after the planned closure announced in June and spoke about how important the facility was for her son. She said, "His speech has improved remarkably & he's received the right support, care and love... We shouldn't close this service, the council should listen."
July 13, 2018