Wandsworth benefits from new TfL fund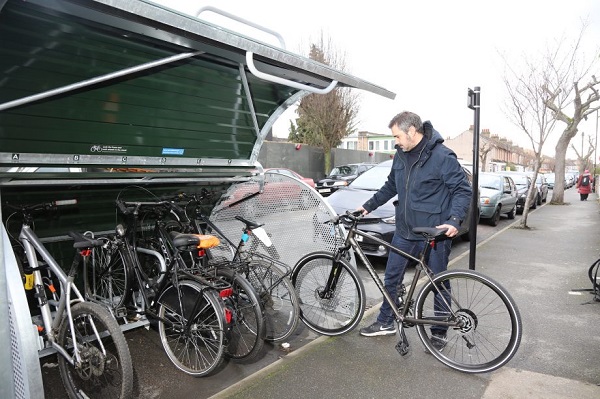 TfL is to invest £20,000 to create 80 new bike parking spaces in town centres across Wandsworth. The initiative is part of a £3.5 million fund being granted to thirty London boroughs with the aim of getting more Londoners on their bikes.
TfL says its investment has been "carefully targeted to add spaces where they are most needed". In Wandsworth, TfL is specifically keen on "enabling more people to cycle to the shops". Tom Bogdanowicz, Senior Policy and Development Officer for the London Cycling Campaign, said, "Being unable to park a cycle near to their destination is a major deterrent to people cycling.
"It also sends exactly the wrong signal when car parking is more plentiful and convenient than cycle racks."
It's a sentiment echoed by the Wandsworth Cycling Campaign: "We welcome the commitment by Wandsworth Council and TfL to improve cycle parking in our town centres. Secure parking is vital to enable residents to make short trips to the shops, cafes and facilities in their area by bike. And it's good for local businesses. Research shows that cycle parking delivers five times more retail spend per square metre than the same area of car parking."
The new bike parking scheme forms part of TfL's Cycle Parking Implementation Plan, which was published last year and which showed that thousands of new parking spaces are needed to keep up with increased levels of cycling. The London Mayor's Walking and Cycling Commissioner, Will Norman, said, "We are determined to get more Londoners onto their bikes to help to tackle congestion and make the city greener.
"As well as continuing to make cycling safer, we know it's vital that we make the beginning and the end of people's journeys as simple and hassle free as possible."
Local London Assembly Member, Leonie Cooper, added, "It will also help to go towards clamping down on the capital's toxic air which we know contributes towards the deaths of approximately 10,000 Londoners every year."
Cycling in London has boomed in recent years, with recent TfL figures showing the average daily total distance cycled in the capital is now, for the first time, exceeding four million kilometres.
On a local level Wandsworth Council has its own initiative for residents who cycle but struggle to store their bikes. Bike hangars are becoming a regular feature on borough streets – you can request a street hangar, which houses six bikes, or just one space in a hangar near you via the council website. Bikehangar prices start at £72 a year.
Meanwhile the first of the new TfL parking spaces are set to be in place by the spring.

January 21, 2020