Four schools in the borough participating in cooking competition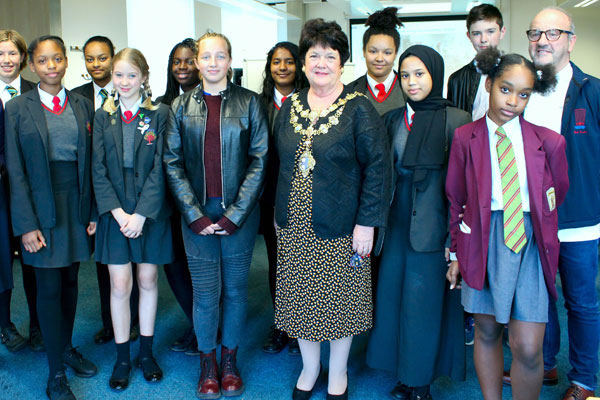 The Mayor and Nick Vadis at the launch

Four schools from Wandsworth borough including St Cecilia's and Southfields Academy are taking part in the seventh annual Wandsworth Young Chef of the Year competition.
The Young Chef competition is run by the Mayor of Wandsworth and the council's Lifelong Learning team in association with borough schools. It aims to nurture young talent, teach young people how to cook good healthy food to a budget, provide a chance to learn from the experts and help young people get a foothold in the catering industry.
Over the next few weeks schools will hold 'cook-offs' to choose their finalists, who will compete next spring in the grand final.
Each of the schools taking part has a shortlist of competitors, who were invited along to the launch at Burntwood School, where they had a chance to meet mentors. All the finalists will receive support and mentoring from chefs at catering company Compass, which has been involved with the competition since it launched in 2013. Culinary Director for Compass Group UK & Ireland, Nick Vadis, went along to the launch to speak to this year's hopefuls.
Also supporting the scheme are South Thames College's catering school – which hosted the first masterclass for contestants on Monday - hospitality company Baxter Storey, and Billingsgate Fish Market, which will teach finalists how to choose, prepare and cook fish. There will also be other opportunities and surprises for this year's finalists as they progress through the competition.
Mayor of Wandsworth Cllr Jane Cooper said: "I think this competition is so exciting and we have been so fortunate in Wandsworth to have such amazing employers such as Nick Vadis giving their time and sharing their expertise and sheer love of the hospitality industry.
"Whatever career choices our young people go on to make, I hope everyone taking part enjoys the competition and that it will provide inspiration and skills that will last a lifetime. I'm looking forward to tasting the delicious dishes they come up with in the final."
Other schools taking part are Burntwood Academy and Graveney Academy.
November 6, 2019