London's First Ever Trans Fashion Show Styled By Wandsworth Oasis
---
Event was hosted by local London Assembly Member Leonie Cooper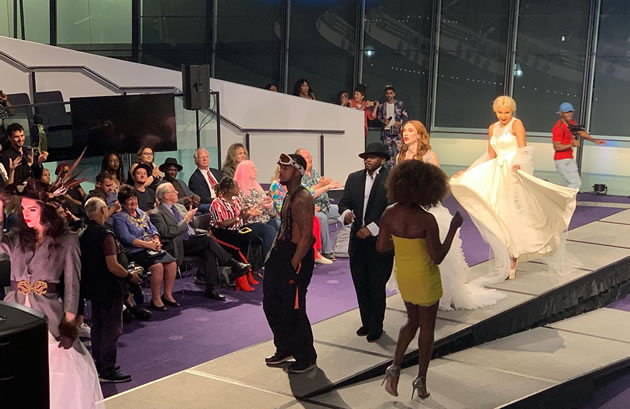 A transgender fashion show, preceding London's first trans Pride march last weekend, has been held at City Hall. Raising funds for CliniQ, the holistic sexual health and well-being service for trans people, partners and friends, and organised by the team at Mzz Kimberley's LIFE, the groundbreaking show last Friday (September 13th) was provided with costumes from Wandsworth Oasis' shops in south west London.
Wandsworth London Assembly Member, Leonie Cooper, hosted the event alongside trans activist Mzz Kimberley and her team. Leonie said that the fashion show sent "an important and powerful message that transphobia will not be tolerated in our capital".

Professional models and members of the wider LGBTQ+ community all took to the catwalk in City Hall's main chamber in front of 300 guests, exhibiting the donated outfits. Wandsworth Oasis said, "We were proud to have provided all the clothes and accessories. Stamping out transphobia one strut at a time. The charity currently has eleven shops, mainly in Wandsworth, which raise money to support those living with HIV.

Figures published in June, obtained by the BBC through FOI requests, show that during the 2018-2019 financial year the Metropolitan Police recorded 235 transphobic hate crime offences. This marks a 26% rise upon the previous year.

Leonie Cooper added, "It was an enormous privilege to host London's first-ever all trans fashion show at City Hall. The overwhelming success of the event was down to the hard work of Mzz Kimberley and her team and the fantastic models and volunteers from across the LGBTQ+ community. We also want to thank Wandsworth Oasis for their huge support and generosity.

"Alongside raising funds to support the vital work being carried out by CliniQ, the fashion show also set a precedent for how we should celebrate and exhibit trans culture".

September 20, 2019