Joel Osei murdered Adrian Murphy in his Battersea flat with poison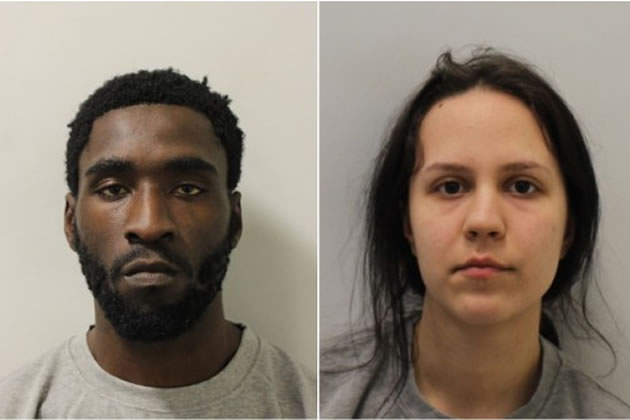 Joel Osei and Diana Cristea
February 2, 2021
A man who killed a dance teacher from Battersea after poisoning him with a date rape drug has been jailed for life following a trial at Croydon Crown Court.
26-year-old Joel Osei contacted Adrian Murphy, who was forty at the time, through the Grindr dating app using a fake profile and came to his flat on Lombard Road on 1 June 2019. He gave him a drug known as 'devil' breath' or scopolamine with the intention of knocking him out and robbing him.
Osei and his ex-girlfriend and co-defendant Diana Cristea, aged 19, had used this method before to steal from gay men.
Leaving Mr Murphy unconscious, the pair tried to buy £62,000 worth of diamonds from a New York jeweller in New York using Mr Murphy' bank details by setting up a fake PayPal account.
Mr Murphy' body was not discovered until three days later when a friend came to check up on him. Post mortem tests found although there were no defensive injuries he had a level of scopolamine in his blood many times what would have been needed to kill him.
When police searched the flat they found Mr Murphy' phone down the toilet and a can of Coca Cola with traces of scopolamine in it. A bottle of whisky found at the scene was found to have Osei' fingerprints on it.
A review of CCTV footage from within the block of flats showed that at 10.22pm on Saturday, 1 June 2019 Osei exited an elevator and walked towards the property where Mr Murphy was staying.
He was then captured leaving the building at 12.05am on Sunday, 2 June 2019 carrying a designer holdall – which later transpired to be full of stolen items.
Having reviewed thousands of pieces of digital evidence, detectives identified that while at the Battersea address, Osei spoke to Cristea through 23 separate calls and messages. After departing, he met Cristea and handed her goods stolen from the flat including laptops, phones, bank cards, designer bag and wallet, and clothes.
On Sunday, 2 June 2019 Cristea' phone was used to take photographs of the items and post them for sale online. They also used one of Mr Murphy' cards to spend almost $3,000 USD on computer software.

Adrian Murphy
As part of the investigation into Mr Murphy' death, detectives were able to link Osei to a similar incident at an address in Walthamstow on Thursday, 30 May 2019.
Cristea will be sentenced for murder, two counts of theft and eight counts of fraud at a later date. During the trial the jury had been told that on Wednesday, 19 June 2019 Cristea called 999 to report that Osei killed Adrian Murphy by drugging him and then stole his personal belongings.
Mr Murphy' sister Majella said in a statement made to the court by videolink, 'He was beautiful inside and out and only wanted to make people happy. To his murderers, you have stolen my brother from me, you have ripped half of me away, I personally will never recover from this. I would not wish this pain on anyone, not even you two.'
In a statement read out in court, Mr Murphy' brother Robert described him as a hero and said, 'The verdict does not fill us with joy or relief because we will not get our Adrian back. He is now dancing amongst the stars.'
Cristea and Osei have also been convicted of poisoning another man who they contacted in the same way. This victim survived the poison but needed to be taken to hospital. Osei was also given a concurrent sentence of five years in prison for this offence.
He must now serve a minimum of 32 years before he is even considered for release.