Marsha De Cordova and Rosena Allin-Khan re-elected as MPs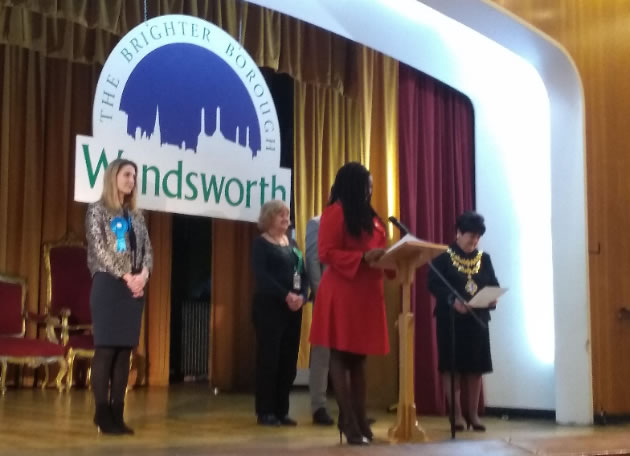 Ms De Cordova makes her acceptance speech
The Labour Party have held on to the two seats in Wandsworth borough that they held at the last election bringing some consolation in what was an otherwise disappointing night for the party.
Marsha De Cordova successfully defended the Battersea constituency that she won from the Conservatives in 2017 increasing the size of her majority, a rare feat for a Labour MP on what was a miserable night generally for the party.
The Conservative candidate Kim Caddy saw her number of votes fall compared to the party's performance last time out whilst the Lib Dems and Greens saw their support increase.
One local party member observed, "With Battersea now looking more and more like a safe Labour seat when once it was the ultimate bell-weather constituency and seats in the north east falling to the Conservatives we have to accept that politics has changed utterly."
Battersea - General Election 2019 result

| Party | Candidate | Votes | % | +/- % |
| --- | --- | --- | --- | --- |
| Labour | Marsha De Cordova | | | |
| Conservative | Kim Caddy | | | |
| Liberal Democrat | Mark Gitsham | | | |
| Green Party | Lois Davis | | | |
| The Brexit Party | Jake Thomas | | | |
Battersea turnout was 75.8% compared to 71% in 2017. 60,118 people voted in the constituency.
Ms de Cordova is the Labour Shadow Minister for Disabled People and previously worked in the charity sector campaigning on social security.
She is a also a trade unionist and a member of Unite the Union, where she represented disabled workers on the London and Eastern Regional Committee and the National Disabled Members Committee.
She has campaigned for a final say on Brexit and to remain in the EU, as well as a Green New Deal, genuinely affordable homes in Battersea, tackling youth violence through a fully funded National Youth Service, more police on the streets, and to end the privatisation of the NHS.
Kim Caddy is a Cabinet Member for Housing at Wandsworth Council. She is also a school governor and trustee for a local charity. Previously Ms Caddy worked in the engineering and healthcare sectors, and is a qualified chartered accountant.
She has campaigned to tackle homelessness by building new homes for low and average earners on council land, protecting existing bus routes and for more trains from Battersea Park Station.
Battersea - General Election 2017 result

Party

Candidate

Votes

%

+/- %

Labour

Marsha De Cordova

Conservative

Jane Ellison

Liberal Democrat

Richard Davis

Independent

Chris Coghlan

Green Party

Lois Davis

UKIP

Eugene Power

Socialist Party GB

Daniel Lambert
Rosena Allin-Khan comfortably held on in Tooting for Labour as widely expect with over 30,000 votes. Although her majority was slightly reduced the Conservative candidate also saw a fall in her total vote with the Greens and the Liberal Democrats making ground.
The turnout for the Tooting constituency also rose. 58,555 people voted - 76.1 per cent of the electorate. This compares with 74.6% in 2017.
Dr Rosena Allin-Khan has held the seat since 2016, when she won a by-election after Sadiq Khan became Mayor of London.
Tooting - General Election 2019 result

| Party | | Votes | % | +/- % |
| --- | --- | --- | --- | --- |
| Labour | Rosena Allin-Khan | | | |
| Conservative | Kerry Briscoe | | | |
| Liberal Democrat | Olly Glover | | | |
| Green Party | Glyn Goodwin | | | |
| The Brexit Party | Adam Shakir | 452 | 0.8 | +0.8 |
| Social Democratic Party | Roz Hubley | | | |
The seat has been Labour since its creation in 1974 and is one of the most pro-remain constituencies in the country, with nearly 75 per cent of residents voting to stay in the EU in the 2016 referendum.
Dr Allin-Khan works as an A&E doctor at St George's Hospital, and has worked as a humanitarian aid doctor and fought for refugees fleeing persecution across the world.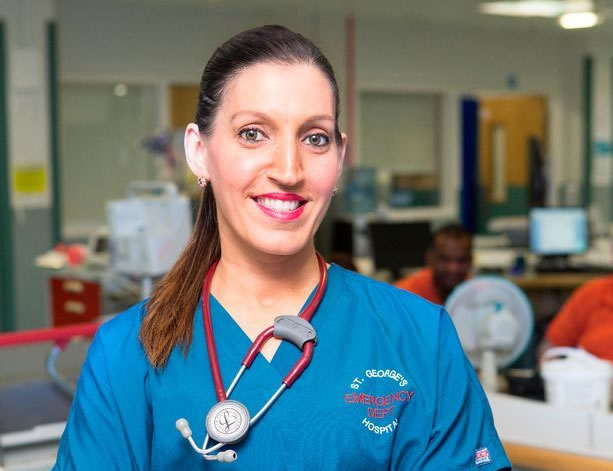 Rosena Allin-Khan
She previously served as a councillor for Bedford ward in Balham before standing for parliament in 2016.
She was re-elected with 59.6 per cent of the vote in 2017, and hopes her strong pro-Remain stance will hold her seat in Tooting, as well as her continued work challenging Wandsworth Council over fly-tipping in the borough.
In this year's campaign, she did a spoof of the iconic scene in the film 'Love Actually' where Mark confesses his love to Juliet on her doorstep. It was later copied by the Prime Minister Boris Johnson.
Once again the Conservatives were the most likely challengers in the seat, having won 33.1 per cent of the vote in 2017. This year's candidate was Kerry Briscoe, a businesswoman with a background in finance.
She has given talks at universities and schools to inspire young women to pursue their careers and has led workshops on CV writing and interview techniques to help young people onto the professional ladder.Her campaign focused on the local economy, housing, schools and education, local environmental action and making Tooting's streets safe again.
Pollsters had been predicting that Tooting would remain a safe Labour seat.
Tooting - General Election 2017 result

Party

Votes

%

+/- %

Labour

Rosena Allin-Khan

Conservative

Dan Watkins

Liberal Democrat

Alexander Glassbrook

Green Party

Esther Obiri-Darko

UKIP

Ryan Coshall
Turnout in Putney was 77.4%, up from 72% in 2017.
Londoners normally turnout to vote in greater numbers than the national average. The capital saw a 70.1% of eligible voters turning out in 2017 compared to 68.8% across the UK.
Written with contributions from Sian Bayley - Local Democracy Reporter
December 13, 2019