Mount Nod burial ground will soon reopen to the public
November 26, 2019
Wandsworth's Huguenot Burial site – also known locally as Mount Nod – is undergoing a major renovation which, when finished, will mean the green space is open to the public for the first time in generations.
Although the railings surrounding the site were replaced in 2003, the rest of burial ground has remained untouched for decades while its formal ownership was clarified. Wandsworth Council now has the title deeds, which has meant that public money can legitimately be spent on the refurbishment.
Work starts in the last week of November on the East Hill site next to Mary Magdalen Catholic Church. There are over 100 small graves on the burial site as well as historic tombs, some of which are in a precarious state and in dire need of renovation.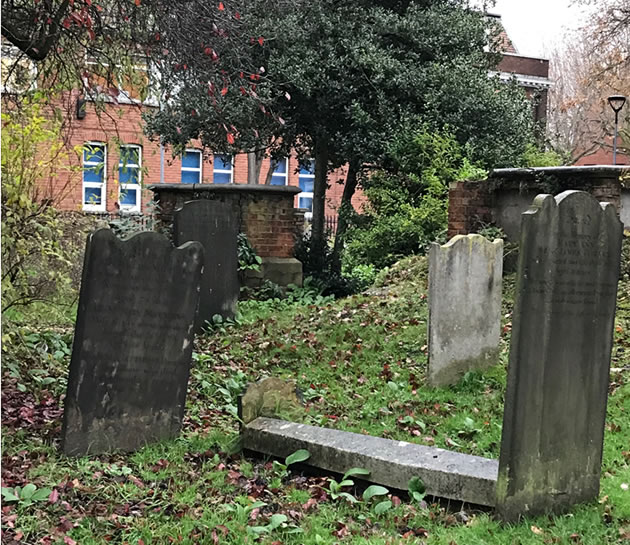 The cemetery dates back to the late 1600s and was used to bury Huguenot refugees. According to the London Parks & Gardens Trust, which compiles an inventory of historic green spaces across the capital: "The Huguenot Burial Ground opened in c.1687 as the burial ground for the French Church, which was located opposite Wandsworth parish church of All Saints.
"The burial ground was used by the Huguenot refugees who settled in Wandsworth during the C16th and C17th, fleeing France after the Edict of Nantes in 1685. The burial ground later became known as Mount Nod; it was enlarged in 1700 and again in 1735."
Mount Nod was closed for burial in the mid 1800s, but later reopened briefly as a public garden before falling into disrepair.
In honour of the renovation the Wandsworth Society is celebrating with a talk from the Huguenot Society. Called 'The Huguenots and Wandsworth', the talk will be free and will be about the origins of the Huguenots and explore their persecution, emigration to the UK and assimilation. Attendees will hear about the Huguenots who lived in Wandsworth, the skills they brought and the way that Wandsworth's heavily industrialised past is reflected in today's town.
February Meeting – The Huguenots and Wandsworth
At West Side Church in Melody Road SW18
Thursday February 13, 2020 at 8:00 pm - 9:30 pm
Locally the site is known as Mount Nod, after a reference on the tombstone pictured above. The renovation is due to cost £300,000 and, when finished, residents will be free to use the park although dogs will not be allowed.