Council blames TfL for delay and says updated designs to be consulted on 'imminently'

CGI of the redesigned Wandsworth High Street looking east
Long delayed plans for the redesign of the Wandsworth High Street one-way system were discussed at a full Council meeting earlier this month. It was confirmed that it is still intended to proceed with the project and that updated designs for the scheme are going out for consultation "imminently."
Cllr Rory O'Broin, the Cabinet Member for Finance and Corporate Resources, confirmed that updated designs for removing the one way system are going out for consultation with residents
He said work is expected to start in 2021, with a target completion date of 2024.
Opposition councillor Tony Belton asked about the financial viability of the project, which is being carried out in conjunction with TfL, and already £17million over budget.
Cllr O'Broin re-iterated that there is a cap of £27.5million contributed by Wandsworth and blamed the increase in cost on delays that were the responsibility of TfL.
He said Wandsworth is ready and will push TfL to start building as soon as possible.
The current proposed scheme would see cars and lorries diverted away from the main shopping and commercial parts of Wandsworth town centre.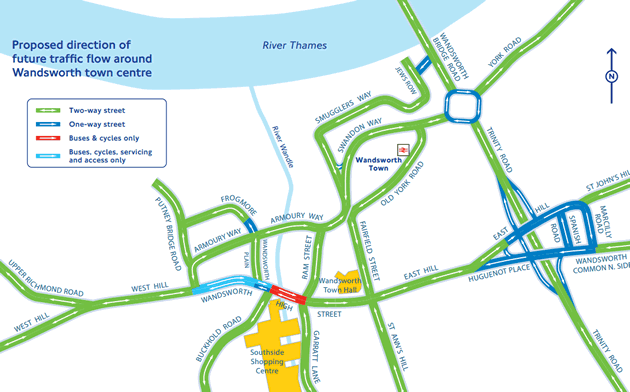 Map of proposed rerouting of traffic around Wandsworth High Street
Under the proposals drawn up by TfL's highway engineers, traffic would be re-routed onto Armoury Way, which would become two-way.
The Council say that changes would result in a significant reduction in traffic between Fairfield Street and Putney Bridge Road and provide more space for pedestrians and cyclists, while still allowing buses to service the area.
Nigel Hardy, TfL's Head of Healthy Streets Investment and Delivery, said, "Our work in partnership with Wandsworth Council to transform the town centre will reduce the dominance of motor traffic, enabling more people to walk, cycle and use public transport, while boosting business in the area. The estimated cost of the land needed to build the scheme has risen substantially, which is why we're working closely with the council to refine designs and ensure the plans offer best value for money. This design work is almost complete and we plan to start construction in late 2021."
Written with contributions from Sian Bayley - Local Democracy Reporter

February 14, 2020