Making way for high-rise development of flats and shops

CGI images of what the building might look like
The design team behind the St John's Hill Peabody transformation, Putney's Ark Academy and the controversial new look for the Alton Estate, is due to start the second phase of the redevelopment of the B&Q and Homebase sites in Swandon Way. June this year has been earmarked for works to begin.
While Hawkins\Brown's design to replace B&Q with flats and shops is already under construction, final amendments to planning for the Homebase site are currently being considered by the Council's planning team.
Full planning permission was granted in August 2018 for the demolition of the existing Homebase warehouse building and the erection of three buildings ranging from 8 to 17 storeys in height. The new scheme - which controversially only got the go ahead after Mayor Sadiq Khan overruled Wandsworth Council's refusal to grant planning permission – will include 385 residential units as well as shops, offices, parking and leisure space. The developer – insurance giant Legal & General - will also contribute £100,000 to the refurbishment programme planned for Wandsworth Town Station.
Legal & General bought the two adjacent sites in Swandon Way to deliver its largest Built To Rent (BTR) scheme to date. The Dutch pension fund PGGM and Legal & General Capital, the investment arm of the L&G Group, have also taken a stake in the £500 million redevelopment which includes 35% affordable housing.
A spokesperson for L&G explained the rationale behind Sadiq Khan overturning the Council's decision to refuse planning for the site: "Due to the supply/demand imbalance in the local area, the (Mayor's) London Plan identifies that the unmet housing need in Wandsworth has now reached a shortfall of 2,310 new homes per year.
"Legal & General's new scheme will be a significant contributor to tackling this shortage, providing purpose-built rental homes with long leases for all ages, demographics and social groups. "
Wandsworth's planning committee rejected applications to develop on the Homebase site at Swandon Way on two separate occasions. Council leader, Ravi Govindia, said, "The application was rightly turned down by Wandsworth - twice - because it was felt that this development was in the wrong location and was too high and too bulky. This was a view shared by hundreds of residents and the local amenity society."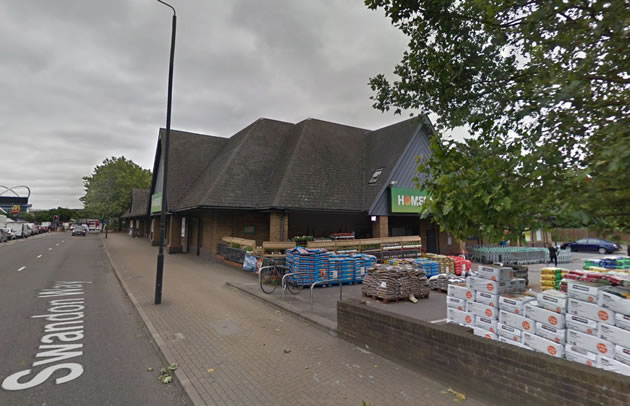 Homebase on Swandon Way. Google Street View
The Mayor of London, Sadiq Khan, said: "I've made it clear I am committed to increasing the delivery of genuinely affordable housing in London, especially given the pitiful legacy I inherited, and I will use my full range of planning powers to achieve this.
"This development offers a significant number of high-quality homes in a location which offers great transport links and local amenities. We have confirmed more than half of the affordable homes will be delivered up front in the first stage of construction.
"I'm also really pleased we have secured a review mechanism which could increase the level of affordable housing further – and that people who live and work in the area will benefit from a significant upgrade to Wandsworth Town Station."
The Mayor has so far called in four developments each time with the aim of increasing the number of affordable units above his target of 35%

February 7, 2020