Two day industrial action on South Western Railway services going ahead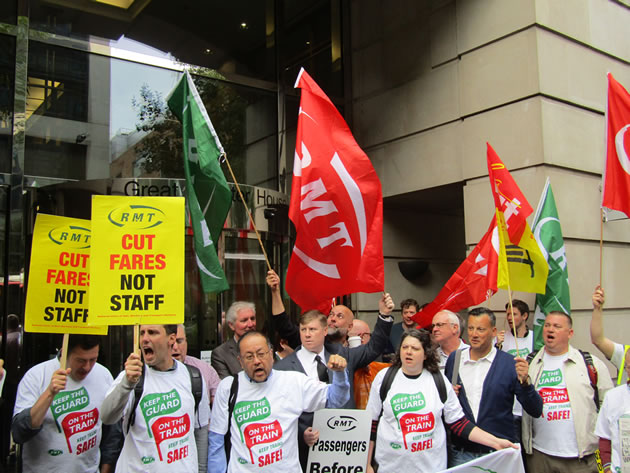 RMT members demonstrate outside the Department of Transport
South Western Railway (SWR) has announced that it plans to run more than 60% of its normal train services on the two days that the RMT union has instructed its Guards members to go on strike.
The strike will affect services on Wednesday 8 and Thursday 9 November but contingency plans are in place to run as many services as possible. There will also be rail replacement bus services on some routes to help passengers.
It is not clear what percentage of these trains will be on surburban services.
Southern Rail will also be affected on both days but the operator says that a normal service will be operated on most routes, including the Gatwick Express and Thameslink.
SWR operate the former South West Trains franchise that runs through Wandsworth Town. The dispute is over whether or not trains should be allowed to run if a guard is not available. The RMT say they have tried to get a water-tight pledge out of the new owners on the issue but claim to have been met with a "barrage of spin and prevarication". SWR say they are committed to retaining guards on trains whenever possible. They dispute the union's assertion that guards are safety critical, pointing to other networks who have driver operated-only trains with no reduction in safety.
Andy Mellors, Managing Director for South Western Railway, said: "We plan to run around two thirds of our regular timetabled services which will deliver around 70% of the seats we normally provide across the morning and evening peak hours in to London.
"However, we are sorry that many of our passengers will find trains much busier than normal and that, in some places, replacement bus services will run instead of trains on the strike date called by the RMT.
"This strike is unnecessary. We have repeatedly assured the RMT that we plan to keep two safety-trained employees on our trains. This is because we know that a second member of staff provides assurance to our passengers and ensures we have capable colleagues on board to deliver assistance or offer advice during journeys.
"No one will lose their job. We have been very clear that we are guaranteeing the jobs, salaries and terms and conditions of Guards. In fact, as we expand our fleet, we will be hiring more Drivers and Guards to help deliver more and better services for passengers."

Mick Cash, RMT General Secretary, said, "RMT remains deeply concerned that SWR are prepared to cut corners on safety in order to run trains with staff who are ill-equiped to carry out the full range of functions of the guard.
"This dispute can be easily resolved if the company are prepared to stick to existing agreements, give staff and passengers alike a guarantee of a second, safety-critical member of staff on all current services and an assurance that safety and access are the absolute priority.
Further details on the timetable and rail replacement bus services
Live Updates on South Western Rail Services
November 1, 2017