London prices per square foot reveal some shocking figures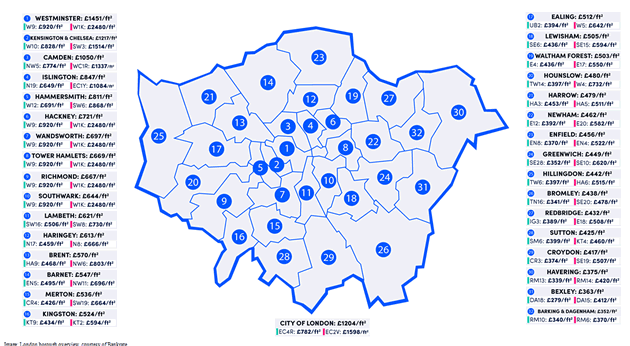 hocking figures
Image: London borough overview, courtesy of Bankrate
November 4, 2019
Wandsworth SW18 has come in at number seven on the list for the most UK's expensive postcode areas to live in.

Top was W1K in the borough of Westminster, where buyers pay a staggering £2,480 per square foot according to personal finance service Bankrate which last week revealed the nation's cheapest and most expensive postcodes by price per square foot.
SW18 is a comparatively less expensive £697 per square foot just behind postcodes in Kensington & Chelsea, Camden, Islington, Hammersmith & Fulham and Hackney.
Sarah Guershon, mortgage expert at Bankrate, said: "We're constantly bombarded with stories of how unaffordable London is, so it should come as no surprise that the capital dominates the most expensive postcode list for square footage."
The most expensive postcode outside London is Thames Ditton in Surrey where property averages out at £560 per square foot.
The cheapest square footage you can buy in the UK is in Middlesbrough's TS2 at just £43.71per square foot. Floorspace in Westminster costs a whopping 56 times more than it does in this area of the North East.
The three cheapest postcodes in London, according to Bankrate, are in the borough of Bexley with DA17 in Belvedere at £338 per square foot, and DA8 and DA18 offering £322 and £279 per square foot respectively.
The London borough with the lowest average price-per-square-foot across all postcodes is Barking and Dagenham at £352.
And if you're thinking of trading in your Wandsworth abode and decamping to the home counties for more space for your money, the figures make for a sobering read. While you'll pay an average of £324 in the South East of England, postcodes within easy commuting distance of the capital are still eye-wateringly high. The top ten most expensive postcodes outside London include Esher's KT10, AL1 in St Albans, KT13 in Weybridge and Radlett WD7.
The Mayor's current London Plan identifies unmet housing needs in Wandsworth as having now reached a shortfall of 2,310 new homes per year, which continues to contribute significantly to the supply/demand inbalance in local housing stock.