To ask Nicola Sturgeon not to support Heathrow expansion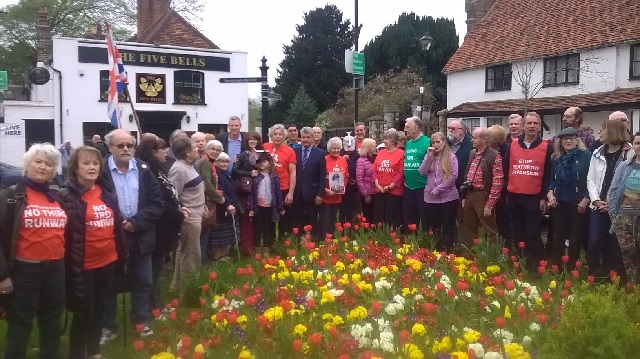 Neil Keveron and supporters
On Tuesday Harmondsworth resident Neil Keveren was given a great send off by supporters, including Hillingdon council leader Ray Puddifoot and former MP Zac Goldsmith, as he set out on an epic walk to save his village from the impact of a third runway at Heathrow. If a new runway is built it would demolish the 11th century village of Harmonsdworth.
Keveren, a local builder who has lived in the area all his life, is embarking on a three week walk to Scotland to seek a meeting with SNP leader Nicola Sturgeon to try to persuade her party to vote against a third runway at Heathrow when it comes before Parliament later this year. He expects to be in Edinburgh on 25th April.
Zac Goldsmith, amongst the well-wishers, said: "Neil is on the front line in the battle against Heathrow expansion and speaks for residents of a community that will be bulldozed if the airport expands. I wish him well as he meets MPs from Hillingdon to Scotland to persuade them why a third runway is no more in their interests than those of his family and friends."
Ray Puddifoot, Leader of Hillingdon Council, said: "I have led Hillingdon Council for 17 years and throughout that time the lives of thousands of residents have been continually blighted by a series of failed proposals to expand Heathrow.
"As the High Court judge said in 2010 when the last proposal was put forward it was "untenable in both law and common sense " and given that the current proposal is far worse I have little doubt that it will be rejected by the courts.
"Neil Keveren has my full support for his venture to bring this unacceptable and unnecessary destruction of communities and the threat to the health and wellbeing of many thousands of people to the attention of a wider audience. "
John Stewart, the chair of HACAN, the residents' organisation which opposes a third runway, said, "This is an epic walk with a very clear purpose. Neil Keveren will be making a very human plea to Nicola Sturgeon to think again before backing a plan that would require the demolition of nearly 800 homes."
Jackie Clark, Chair of Stop Heathrow Expansion, said: "We are supporting Neil every step of the way and our community are grateful for the what he is doing in the fight to save our villages from Heathrow's bulldozers."
Neil Keveren will be joined by other campaigners for part of his walk. He will be recording short videos updating his progress available at @StopHeathrowExp.


April 5, 2017