Consulting on biggest changes to operation of airport since it opened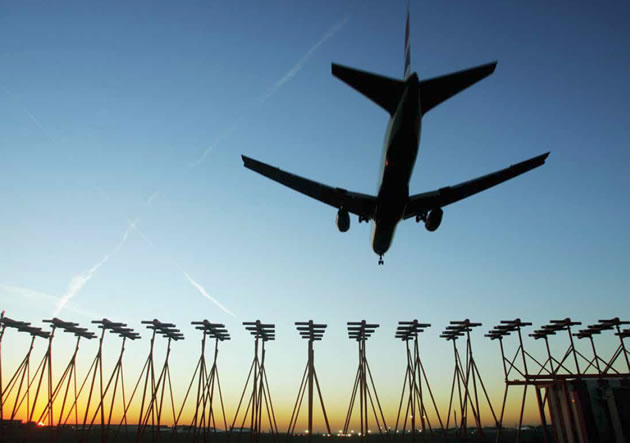 Heathrow Airport has started its consultation into what has been described as the biggest change to flight paths since the airport opened in 1946.
The new arrangements look set to reduce the hours of respite currently enjoyed by West and South West London and ultimately bring airport related noise disruption to a wider area.
Under the proposals people in West London, who currently enjoy a half day's break from the noise when planes switch runways at 3pm, will find that cut to one third of the day if a third runway is built. But all-day flying will become a thing of the past for many places as the principle of respite is extended to people living under departures routes and areas such as Windsor and South East London.
John Stewart, chair of HACAN, the organisation which campaigns on airport noise coming from Heathrow, said, "A lot of West London will be badly hit by these proposals but there will be many other communities who will be relieved at the prospect of all-day flying coming to an end. It amounts to a near-revolution to Heathrow's flight paths."
The more northerly positioning of the new runway will means that areas such as Ealing, Acton, Chiswick and Shepherd's Bush might see much more air traffic overhead but how much remains unclear despite the extra information released as part of this consultation.
There is a post code checker that you can use to see how you will be impacted by the proposals but when we tested a variety of addresses they all came up with a similar responses suggested more over flights but little detail.
Heathrow is also proposing to bring in 25,000 more flights a year before any new runway opens. The plan is called Independent Parallel Approaches (IPA). It would require the lifting of the 480,000 annual cap on flights which was imposed as a condition of Terminal 5. Heathrow will only ask for these flights until the third runway is operational. They would only start once Heathrow's detailed plans for a third runway had been approved – expected to be 2021. Heathrow aims to open a third runway in 2025 so it is likely IPA would be in place for about 4 years.
Ruth Cadbury MP for Brentford and Isleworth called the proposal for 25,000 new flights a year under IPA as a 'reckless push'. She said, I'm very concerned that extra flights on the existing two runways will lead to both runways being used simultaneously for landings, and the current eight hour noise respite period being cut. This means yet more noise for those under the current flight paths in Hounslow, Isleworth and the south half of Chiswick. It will also mean the current 7 hour night flight regime will be relaxed, when what we actually need is a complete ban on night flights.
"And a third runway will mean tens of thousands of people in Heston, Osterley, Brentford and north Chiswick not currently under the approach path to Heathrow will experience extreme levels of aircraft noise they have not experienced before. A recent report from the World Health Organisation found that we need much tougher regulations on noise pollution, and we already know that noise pollution is linked to an increase in cardiovascular disease and also impairs children's cognitive learning. "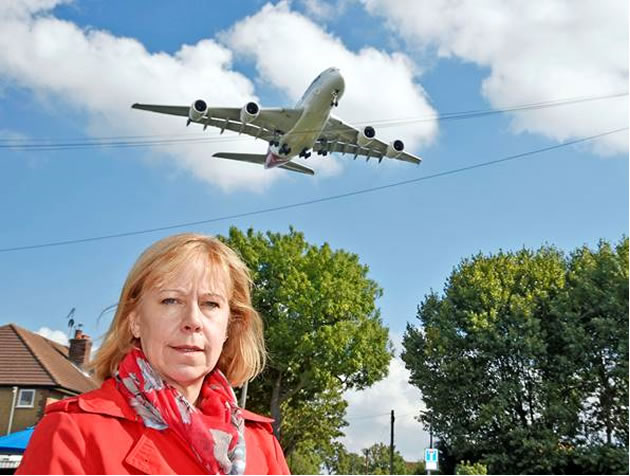 Ruth Cadbury MP near the airport
The consultation also asks for views on night flights. One condition Parliament laid down when it gave Heathrow the go-ahead to work up proposals for a third runway is that the current 5 hour night break is extended to 6½ hours. Heathrow is asking for views on how this should be implemented.
The eight week public consultation running until 4 March is on Airspace and Future Operations and will shape how Heathrow operates an expanded airport with a third runway.
Emma Gilthorpe, Heathrow's Executive Director for Expansion, said, "We are committed to delivering expansion responsibly and putting the needs of local communities at the heart of our growth plans. This stage of open and transparent consultation is critical to developing the best outcomes from Heathrow's future airspace and operations, and we encourage you to take part and help shape our plan for a fairer, future Heathrow."
Cllr Ravi Govindia leader of Wandsworth Council said, "It is frankly extraordinary that it's only now, after the Government has made its decision to expand Heathrow, that there is transparency with communities on where planes might fly. It is also very concerning to read the headlines around this consultation that an extra 25,000 flights a year could come through Heathrow before the third runway is built.
"Our position on a third runway hasn't changed and I would urge people to get involved in this consultation and make their voices heard."
They are asking the public to give comments on three key areas. These are the local factors to be considered in different geographic areas when designing future flight paths; the factors to be considered when designing new flight paths for some aircraft arrivals on the existing two runway and how they will operate three runways in the future – including managing noise; respite through runway and airspace alternation; directional preference and night flights.
They plan to hold will be over 30 consultation events across local boroughs throughout the consultation period, where members of the public will be able to ask questions and provide their feedback.

The consultation documents and feedback forms will be available online for the entire duration of the consultation period, as well as at a number of document inspection locations. Responses may also be submitted via post.

This latest consultation follows on from the airport's first consultation on expansion, which was held from January to March 2018. Heathrow will hold a further consultation in June on its emerging plans for expansion, including the new runway and associated physical infrastructure.
The consultation is now open and the deadline for responding is 11.55pm on 4 March 2019. Feedback can be submitted in a number of ways:


Online, using the dedicated consultation website
By freepost: Post your feedback form (available at Heathrow events, from their website's Documents section, or on request) to them at FREEPOST LHR AFO CONSULTATION
By email: feedback@heathrowconsultation.com


January 9, 2019