Responses will feed into final planning application for airport expansion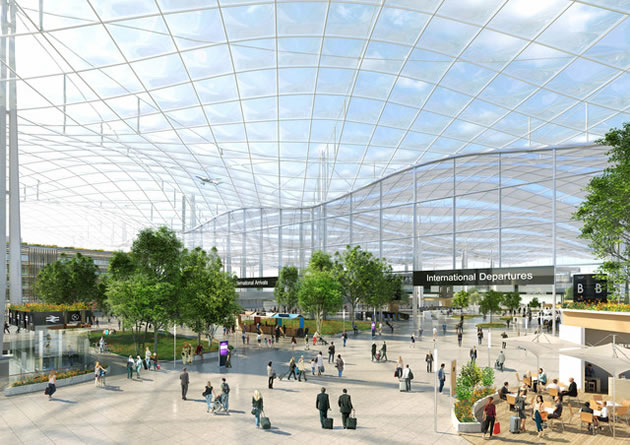 Heathrow's new illustrative example of a new terminal infrastructure
Heathrow Airport are launching another statutory consultation on 18 June as part of their aim to obtain a development consent order to build a new runway.
The airport will consult on its preferred locations for a raft of new airport-related development, including a new immigration detention centre, fuel storage depots, flood storage areas, diverting of local waterways, supersize car parks and dozens of new hotels.
Heathrow says it will be holding events in more locations than previously and, in addition to a national marketing campaign across newspapers, radio, billboards, digital and Spotify, will be contacting 2.6 million households directly encouraging participation. They have tended not to use local news media in previous consultations leading to criticism that they are aiming to reduce the proportion of responses from the areas worst affected.
Many people living in areas immediately around Heathrow, such as West Drayton, Hayes, Bedfont, Stanwell and Cranford, as well as places further afield such as Windsor and Uxbridge will see parts of their areas become part of the expanded airport infrastructure. Residents will be invited to respond to those plans which will change the face of their area.
A recent High Court judgment ruled objections to the plans should be raised at the detailed planning stage and not at the earlier stage following a general National Policy Statement in 2018. Claimants, including five local authorities, the Mayor of London and others, are currently appealing the decision.
Jackie Clark, Chair of Stop Heathrow Expansion, said, "We will continue working with a group of local authorities, the Mayor of London and others taking legal action against a third runway and remain confident that at the next stage of the process we will successfully stop these disastrous proposals for our community from ever taking off at the planning stage in the process."
Paul McGuinness, Chair, No 3rd Runway Coalition said, "This consultation is about the the infrastructure Heathrow will build once they've demolished villages in Hillingdon. Not the serious environmental impacts of imposing a further 700 planes a day over the country's most populated region.
"Heathrow's claim that this consultation, which runs through the summer holiday season, will be their 'most innovative engagement yet' sets a low bar. Just as their boast to hold events in more locations than ever, acknowledges their failure to consult widely enough in the past.
"They claim 'transparency' and that this consultation will include 'consolidated feedback' from the Airspace exercise, earlier in the year. So let them publish it, warts and all. Because residents were horrified by their airspace change proposals and incandescent at the loaded, prescribed questions - which far too many felt didn't allow them to express their real views."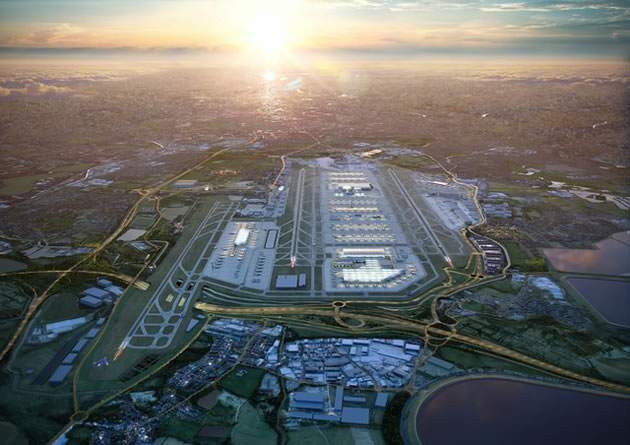 CGI of planned new facilities at Heathrow
Emma Gilthorpe, Heathrow's Executive Director for Expansion, said, "Heathrow's expansion is a project of huge national and local significance, and it is critical to our country's economic growth. An expanded hub airport will allow the country to access more of the world, create thousands of jobs locally and nationally and it will open up new trading routes. But we can't deliver these plans alone. We urge everyone to have their say in this consultation, to shape our plans, and to help us deliver expansion in the fairest and most sustainable way."
Following the conclusion of this consultation and after feedback has been incorporated, Heathrow will submit a final proposal to the Planning Inspectorate in 2020, kickstarting its approvals process. The decision on whether to grant the DCO will be made by the Secretary of State following a public examination period led by the Planning Inspectorate.


May 16, 2019