Part of a drive to make the borough the most connected in London
A Digital Champion Network is being set up in the borough of Wandsworth to encourage the sharing of digital skills.
Community Fibre, which works in partnership with the council to provide super-fast broadband for homes on housing estates, is working with the charity Digital Unite to set up the network.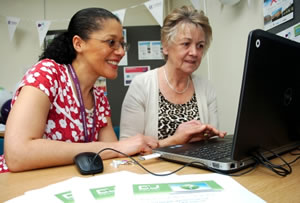 It will mean residents who are already digitally confident can take an online course to further enhance their skills, gain professional accreditations and then share their skills to help others.
The council is supporting the network because they say good digital skills, in combination with fast broadband, enable residents to easily get online to search for jobs, work and study from home, run small businesses and access council service and helps prevent isolation.
So far more than 10,000 homes in council-managed blocks have access to Community Fibre's 'Gigafast' broadband – which the council claim makes it the borough with the largest number of fibre-enabled homes in the capital.
Community Fibre has already funded a number of digital inclusion schemes in Wandsworth including iPad training for elderly people, providing new computers to sheltered schemes and free gigabit connections to community facilities.
The council's spokesman for skills and employment, Cllr Rory O'Broin, said: "This council wants its residents to be the most connected in London, which is why we have prioritised making super-fast broadband available to the people living on our estates.
"The next step is to make sure everyone can make full use of this opportunity. One of the reasons we went into partnership with Community Fibre is because of their commitment to digital inclusion. Technology can be daunting, but we hope this new network will help us get all our residents online."
If you are interested in joining the Digital Champion network, email hello@communityfibre.co.uk.

July 17, 2018