Deputation remotely attends Wandsworth Council meeting to argue for change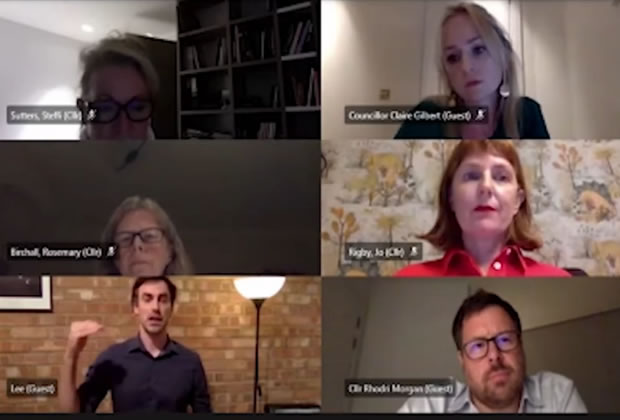 Extinction Rebellion Wandsworth is asking the Council to consider adopting food waste collection from residents as is done in many other boroughs in London.
A deputation from the group remotely attended a Council meeting on Wednesday 23 September with Lee Fennell putting forward the economic and climate case for Wandsworth Council change their system.
At present Wandsworth Council does not have a separate food waste collection, so food gets burnt with general waste in the Belvedere incinerator. Wandsworth burns approximately 40,000 tonnes of food waste a year, creating 30,000 tonnes of CO2 and costing over £6 million.
'Let's be clear,' says Lee Fennell, 'burning ANYTHING releases CO2 into the air. There is no such thing as zero emission incineration. This means that with our current strategy we cannot meet the goals of the Paris Climate Agreement which requires zero-emissions electricity, heating and transport.
'But there is another way,' he says. 'Composting is recognised as a carbon NEGATIVE solution, returning carbon to the soil.'
A video has been made of his presentation
Extinction Rebellion Wandsworth says implementing a food waste collection, and sending it to a commercial composting facility, could save £4 million on processing fees every year.
A spokesperson for the Council said, "The council's focus is to actively encourage residents to reduce all forms of waste, including food, which is by far the best environmental outcome. Minimising the amount of waste material that needs to be collected and processed is a key element of our carbon reduction programme.
"Collecting and disposing of food waste separately could negate some of the big carbon reduction successes we've already achieved. However we are committed to exploring the option further and will be introducing a food waste trial scheme for some low-rise homes which we hope will coincide with technological advances across the recycling industry that secure lower carbon emissions."
The Council dispute that they burn 40,000 tonnes of food waste a year saying the actual number is 25,000 and the total cost is not over £6m but £4m. It also points out that the waste is burned in an energy from waste plant (EfW) which produces electricity for the National Grid - enough to power approx 13,000 homes which enables a reduction in the use of fossil fuels.
At present Wandsworth ranks 341 out of 345 among local councils for recycling with a recycling rate of just 23.2%.

October 6, 2020