And gates will soon be open to visitors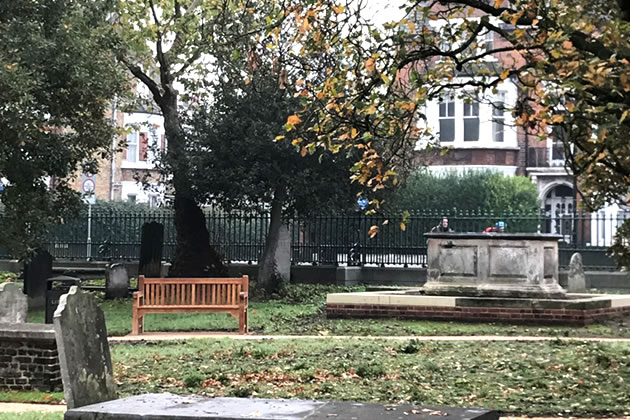 The restored Huguenot Burial Ground photographed this week
November 10, 2020
A year ago this month conservation work started on the Huguenot Burial Ground at the top of East Hill to restore the ancient site.
Mount Nod, as it's known locally, was closed for burial in the mid-1800s and has remained untouched for decades while its formal ownership was clarified.
Following Wandsworth Council's official retention of the title deeds, which meant that public money could be spent on the refurbishment, work began a £300,000 repair and renovation programme
As the image above shows, stonework has been restored and overgrown greenery brought under control whist retaining the burial ground's character and sense of history.
New benches have been installed in anticipation of the imminent reopening of the site to the public.

Mount Nod a year ago
Mount Nod dates back to the late 1600s and was used to bury the Huguenot refugees who fled France and settled in Wandsworth after the Edict of Nantes - which initially established toleration of the Protestant Huguenots in Catholic France - was revoked in 1685.
According to the London Parks & Gardens Trust, which compiles an inventory of historic green spaces across the capital, "The Huguenot Burial Ground opened in c. 1687 as the burial ground for the French Church…. The burial ground later became known as Mount Nod and was enlarged in 1700 and again in 1735."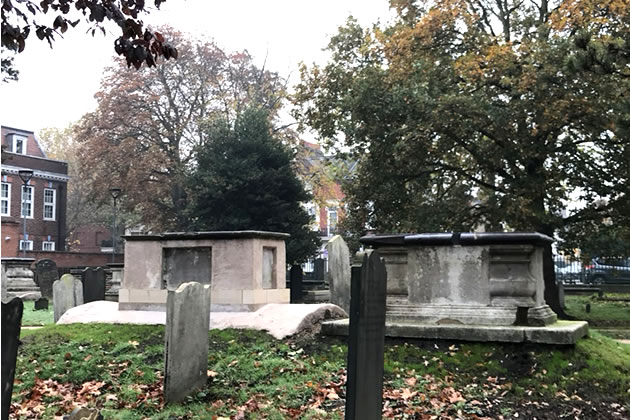 Current images show the restoration has been sensitive to the burial ground's history
When the burial ground finally reopens to the public this autumn, residents will be treated to a rather unusual set of tombstones. The crosses and images of Christ so prevalent in most British graveyards are replaced with much simpler decorations including winged cherubs, the death's head and family coats of arms.