Councils Are Back In Court
---
To challenge Heathrow expansion by outlining vital flaws in the Government's decision
Local authorities committed to protecting their residents from the damaging effects of Heathrow expansion will go to the Court of Appeal today (17th October) to outline vital flaws in the Government's decision to give the go ahead to a third runway at the West London airport.

The councils – Wandsworth, Richmond upon Thames, Hillingdon, Hammersmith & Fulham and Windsor and Maidenhead – will say that that the Government failed to properly consider the full impact of expansion on noise, health and the environment and that the Airports National Policy Statement should therefore be quashed.

The boroughs are joined in the appeal by the Mayor of London and Greenpeace.

Lawyers for the group will spell out how the Government's deliberate failure to identify the whole area that could be affected by noise from a hugely expanded Heathrow fatally undermined the decision to go ahead.

Ministers consulted on a single set of speculative flightpaths. The councils say that if it was not possible to identify actual flightpaths – as the Government and the airport claimed– they should have identified all the areas where flightpaths might be located. Papers disclosed in the case show the Government was worried that if it did reveal the true extent of the risk then support for Heathrow expansion would be lost.

The Government also failed to apply its own policy on noise limits. In June 2018 it had decided that the threshold should be 51 units of noise measurement. But in deciding if Heathrow should go ahead it applied a higher threshold of 54.

This change had the effect of dramatically reducing the numbers assessed to be disturbed by noise – thus again concealing the size of the population likely to be affected and minimising the number of people alerted to the threat of intolerable noise.

The councils will say that the Strategic Environmental Assessment (SEA) which is the process by which detailed environmental considerations are built into plans was also defective in failing to consider how the Airports National Policy Statement (ANPS) backing expansion at Heathrow related to all relevant local plans - including the Hillingdon Local Plan and the Mayor's London Carbon Plan.

They will also argue that the Secretary of State was wrong to reject Gatwick as an alternative to Heathrow on the grounds that expansion at this location might threaten a species of orchid.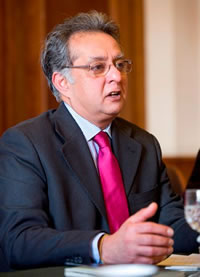 Cllr Ravi Govindia, Leader of Wandsworth Council, pictured above said:
"The third runway will have devastating consequences for the health of Londoners. It is also becoming clearer by the day that expansion will play havoc with the Government's zero carbon targets.

"The latest advice to the Government from the Climate Change Committee, which includes reduced assumptions on aviation growth, makes it clear that current planned additional capacity in London, including the third runway, is likely to leave at most very limited room for growth at regional airports.

"Heathrow's insatiable desire for growth is bad news for airports everywhere else in the country – and bad news for people wanting to fly from their local airport. The Government should be ordered to tear up its ANPS and start again taking account of what we now know about climate change impacts and the effects of tougher zero carbon targets on the rest of the UK."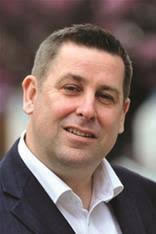 Cllr Steve Cowan, Leader of Hammersmith & Fulham Council, pictured above, said: "The Government has chosen to deliberately ignore the huge environmental damage Heathrow's proposed third runway will cause. Meanwhile, its own figures demonstrate Britain will gain a negligible return on the £18billion of taxpayers' money the government is proposing to throw at this scheme. There's plenty of greener, better initiatives that such huge sums could be spent on which would produce the economic growth our country needs."

The Court of Appeal will begin hearing the appeals from the councils and other groups on 17 October. The hearings are expected to conclude on 23 October.

Cllr Ray Puddifoot, Leader of Hillingdon Council, said: "A north-west runway at Heathrow would have a devastating and long-term impact on the health and wellbeing of millions of Londoners. It will bring in an additional 260,000 flights a year - the same as bolting on another airport the size of Gatwick - yet the government continues to pretend that it will have no adverse effects in terms of noise, air quality or climate change. And, in Hillingdon, where we would see some 1,000 homes demolished and 3,750 more blighted, the increased effects of worsening air pollution will be especially harmful for children and young people.

"In short, a third runway would be nothing short of an environmental catastrophe and a health time bomb and we will continue to do everything in our power to protect residents and stop it from going ahead."

Cllr Gareth Roberts, Leader of Richmond Council, said: "It beggars belief that any UK government should think that an expansion proposal that belongs to the last century should ever be acceptable in an age when collective concern for the impacts of climate change is driving action to bear down on carbon emissions throughout the world.

"It is no less credible that Heathrow's shareholders should expect taxpayers, passengers and indeed the airlines to continue supporting the spiralling costs of a profligate third runway that, given its inevitable failure to meet environmental standards, can never be built and never be used."

Cllr Andrew Johnson, Leader of the Royal Borough of Windsor & Maidenhead, said: "Heathrow's relentless demand for growth belongs to another era. Adding more flights, more noise, more road traffic and more air pollution in the most densely populated part of the country is not sustainable.

"The Government based its support for expansion on a series of false premises. It failed Londoners and people in the Home Counties likely to be affected by expansion by limiting consultation to those areas covered by just one set of flightpaths.

"We now know that nowhere in the Royal Borough or London will be spared the consequences of expansion at Heathrow. Yet right now millions of our residents don't know this because the detail has been kept from them. The third runway simply cannot go ahead on the basis of such a desperate lack of information."

Representatives from the councils will also be attending the Solidarity Rally, organised by the No 3rd Runway Coalition outside the Royal Courts of Justice on 17th October at 8.45am.

October 17, 2019