Labour Take Battersea in 'Revenge of the Remainers'
---
Jane Ellison ousted as Marsha de Cordova becomes new MP
In a result that was barely considered possible just a week ago, Jane Ellison the Conservative candidate defending the Battersea constituency has been defeated by Labour's Marsha de Cordova.
Tory campaigners feared the worst when the IPSOS Mori exit poll was announced just after 10pm and predicted a hung parliament.
When the count was showing that Battersea was going to Labour, Andrew Rawnsley, political editor of the Observer who lives nearby the constituency, speaking on BBC TV said he felt the vote was 'the revenge of the Remainers'. Battersea had a high level of support for staying in the EU during last year's referendum.
Battersea's new MP is a Lambeth borough councillor as well as a disability rights campaigner.
She increased her party's share of the votes by 9% on the 2015 election results, while Richard Davis gained a 3.6% share for the Liberal Democrats.
Ms de Cordova is the Engagement and Advocacy Director at the charity Thomas Pocklington Trust and was CEO of South East London Vision (SELVis).

She has also worked in a variety of managerial positions within the Action For Blind People organisation.

Jane Ellison had been MP for Battersea since 2010 when she ousted Labour's Martin Linton. She won 26,730 votes in the 2015 General Election with a 52.4% share and an increase of 5% on the 2010 results for her party.

She held the post of Financial Secretary to the Treasury in Theresa May's government and previously served as Parliamentary Undersecretary of State for Public Health.

Often cited as a bellwether seat, Battersea residents have tended to vote for the party of government.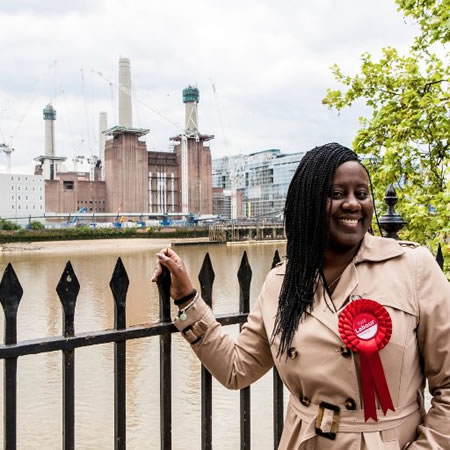 In the other Wandsworth seats Justine Greening held on with a reduced majority of 1,554 for the Conservatives in Putney, Roehampton and Southfields, while Labour's Rosena Allin-Khan was re-elected in Tooting with an increased share of 3.7%.


General Election 2017: Tooting
Party
Candidate
Votes
%
+/-

Labour

Rosena Allin-Khan

34,694

59.6

+12.4

Conservative

Dan Watkins

19,236

33.1

-8.8
Liberal Democrat
Alex Glassbrook

3,057

5.3

+1.3
Green
Esther Obiri-Darko

845

1.5

-2.7

UKIP

Ryan Coshall

339

0.6

-2.3
Majority
15,548

26.5

+6.7
Turnout

58.1

-11.8
Labour hold
General Election 2017: Putney
Party
Candidate
Votes
%
+/-

Conservative

Justine Greening

20,679

44.1

-9.7

Labour

Neeraj Patil

19,126

40.8

+10.8

Liberal Democrat
Ryan Mercer

5,448

11.6

+5.3

Green
Ben Fletcher

1,107

2.4

2.5

UKIP

Patricia Ward

477

1.0

3.6

Independent
Lotta Quizeen

58

0.1

-0.3

Majority

1554

3.3

-

Turnout
46,895


71.7

+4.5

Conservative hold
June 9, 2017